Caséta Outdoor Smart Plug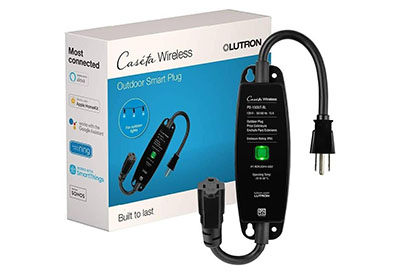 October 12, 2021
It is ideal for smart control of landscape and string lighting, holiday lights and inflatables, and some motors and pumps.
Smart control that lets you do more outdoors
Built with a solid core construction that protects the internal electronics to withstand severe weather, season after season.
This plug controls outdoor loads, both directly and remotely when paired with either Pico remote controls or a Lutron Caséta Smart Bridge, providing a system that delivers convenience and ease of installation.
The Caséta Wireless Outdoor Smart Plug uses Lutron patented Clear Connect Type A RF Technology which enables wireless communication with Pico remote controls, Caséta motion sensors, and the Lutron Smart Bridge and Smart Bridge PRO.
Product general information
For control of outdoor lights and other loads
Turns lights and other loads on/off
15A lighting loads, 1/2 HP motor loads, 1200 VA/8A for MLV loads
Plugs into GFCI outlet
Available in Black
IP-65 rated, -20°C to 50°C temperature rating
Go HERE for more information