CounterQUICK Under Cabinet LED Solution from Satco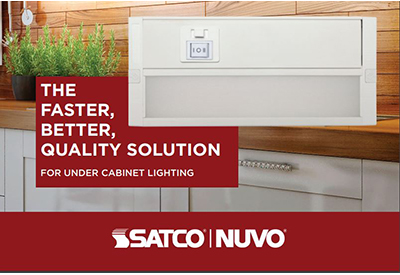 November 15, 2021
No matter how you hang it, install it, connect it, link it, wire it, or light it— CounterQUICK™ is designed to help get the job done; with installation solutions that save on labor, quality, and durability that make for a long maintenance free life. Plus, sku-saving selectable CCT at the switch!
Each fixture comes with one under cabinet end-to-end wire connector. Additional connectors are available. Connect as many as 22 of the 28″ fixtures and 96 of the 8″ fixtures.
Optional extension cables link fixtures across large areas, around corners and cabinets, eliminating the need for additional wiring to the power source. Cables come in 6in., 12in., 18in., 24in. lengths and with the extended connectors they can be combined to form varying runs of up to 96 fixtures.
Go HERE for more information