Fight the Freeze this Winter with EasyHeat™ Residential Heating Cables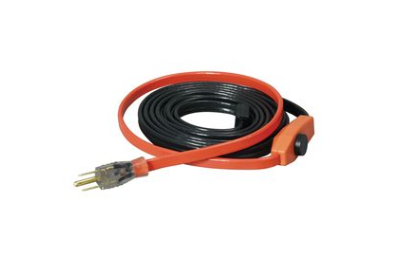 September 27, 2021
EASYHEAT is helping prepare homeowners for what The Old Farmer's Almanac predicts to be one of the longest and coldest winters in years with its AHB Series pipe heating system. Pre-assembled and ready to install, the AHB prevents pipes from freezing in homes and businesses by keeping water flowing in temperatures down to -40 degrees F.
When water freezes in a pipe, it causes water pressure to increase upstream leading to a pipe failure. If the ice expands enough, the pipe bursts, water escapes and serious damage results. According to State Farm Insurance, a 1/8-inch crack in a pipe can spew up to 250 gallons of water a day to bring about serious flood damage, and the potential for dangerous mold. Pipes exposed to cold air, especially on a windy day, can freeze at about 20° F because of breaks in an outside wall, improper heating, quick drops in temperatures, or lack of insulation.
SIMPLE FREEZE PROTECTION
With it's energy-saving thermostat, AHB cables automatically switch electricity on and off, based on the temperature. The cables operate on standard 120 Volts AC and are suitable for use on plastic or metal water pipes where they produce a fixed amount of safe heat.
Featuring a weather-resistant PVC outer jacket, the cables come with a grounded plug plus a power indicator light that lets homeowners see that it is operating at just a glance.
AHB pipe heating cables are available in lengths from 3 feet to 80 feet in wattages ranging from 21W to 560W.
Go HERE for more information