Greenlee® Introduces Pull Assist for Hands-Free, Consistent Pulling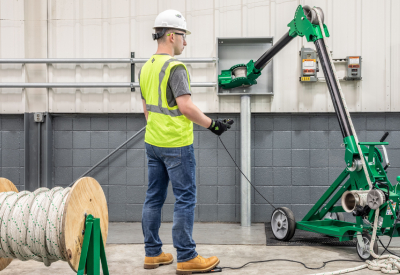 November 17, 2021
Greenlee, part of Emerson's professional tools portfolio, introduces the Pull Assist, a new industry-first puller accessory that increases the ease of completing pulls and helps by giving trade professionals the option to make their pull hands-free and consistent. This allows users to stay out of the danger zone while increasing productivity and decreasing strain and fatigue.
Use the Pull Assist's built-in pendant to maintain total control and feather the rope by fine-tuning the tailing force in real time. The Pull Assist provides up to 85 pounds of tailing force and enables users to set up in challenging locations while still standing 6 feet away from the capstan. It is quick and easy to install on Greenlee's compatible cable pullers and only takes seconds to load the rope once installed. The Pull Assist is compatible with all types of pulling rope up to 1-inch in diameter and designed not to cause damage to the rope during the pull.
"Pulling is one of the most dangerous parts of cable installation. Greenlee's new Pull Assist lets users stand farther back, keeping them out of the danger zone," said Adele Hendrix, product manager, Greenlee for Emerson. "Traditionally, pulling is a labor intensive, time-consuming job that puts extensive strain on the body. Hands-free pulling minimizes strain and fatigue on the body, so you can feel better and get more done."
The Pull Assist is compatible with Greenlee's G6 Turbo™ 6,000 lb. cable puller, G10 Tugger® 10,000 lb. cable puller and Ultra Tugger® 10,000 lb. cable puller.
Go HERE for more information
Go HERE to find your local distributor