Liteline Genesis High Performance Commercial Downlight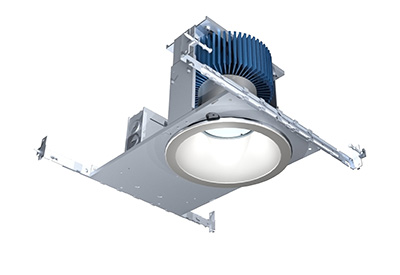 November 3, 2021
This fixture, available in 4", 6", and 8", is high performance commercial recessed downlight, combining 90 CRI standard high power LEDs, dimmable driver and high reflectivity spun aluminum reflector. Key features are best in class optical control, easy to access field changeable optics, wet location rated IP66 construction and screw operated vertical adjustment.
Key Features
Upper optical chamber: Field changeable precision spun faceted aluminum reflector. Available beam angles (17 / 26 / 36 / 50). Optical chamber is sealed by gasketed twist and lock semi-diffuse polycarbonate lens providing wet location rating (IP66) by default.
Lower optics: Optical chamber is constructed with precision spun smooth aluminum reflector. Reflector is self flanged parabolic shape providing high angle cut-off and visual comfort. Available in semi-specular, specular and painted finishes.
Construction: Reflector is mechanically fastened to heat sink and has screw operated vertical adjustment to ensure secure, safe mechanical sandwich with ceiling material. Compatible with ceiling thicknesses from 1⁄8″ to 3″. Passively cooled extruded aluminum heat sink prolongs LED life by ensuring thermal dissipation. Gasketed trim and twist and lock semi-diffuse polycarbonate lens provides wet location rating (IP66) by default.
Go HERE for more information