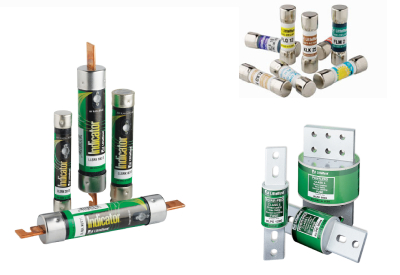 Sept 20, 2021
Available in ratings up to 600 A, the Littelfuse UL Class R fuses provide general-purpose equipment protection. When cost is a major consideration, these economical fuses offer high reliability with their proven, mature design.
The UL Class R fuses:
• Sustain high initial inrush current for a short duration via a time-delay function to eliminate nuisance tripping or blown fuses from current overloads
• Open and clear short-circuits by interrupting the overcurrent in less than ½ cycle with their current-limiting response to reduce potential harm
• Have a dual-element design separating overload and short-circuit sections to extend fuse life and eliminate moving parts preventing potential mechanical binding issues
• Have an optional indication window that saves time locating blown fuses
• Are available in 250 V FLNR and LLNRK and 600 V, FLSR and LLSRK
• Are ideal for service entrance switches, distribution panelboards, main and feeder switchboards, motor control centers/motor branch circuits, and general-purpose circuits
Go HERE for more information.