Mitsubishi Canada's FS Wall Mounted Hyper-Heat Plus Heat Pump Extends Heating Capacity to -20°C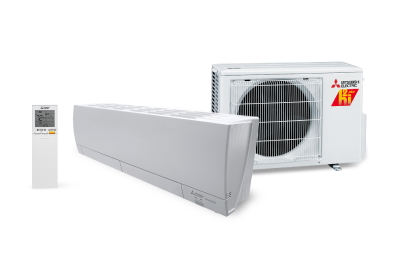 November 5, 2021
By Blake Marchand
Heat pumps use air to heat refrigerant to produce heat inside the home. They are an alternative to electric baseboard heating, natural gas, oil and propane, which has the benefit of efficiency and a lower carbon footprint. Heat pumps have a higher level of efficiency compared to alternative energy sources, while also providing more precise temperature control.
"The reason the FS is a breakthrough for us is because it provides 100% heat capacity at -20°C," said Residential Product Manager, Geoff Sharman. Extending the temperature range a heat pump can operate under, makes it a viable solution for a primary heating source.
We spoke to Sharman to provide some insight into Mitsubishi Electric's new FS Heat Pump.
FS is a ductless heat pump system with one indoor unit connected to one outdoor unit. The ductless units are ideal for a single level, open layout spaces.
How does the FS Heat Pump compare to previous models?
"What we've done is taken the heat pump to a level where people can use it as a primary heat source in Canada."
"Our premium product before the FS, which was called the FH, would put out 100% heat capacity at -15°C," which means you can get the full heat capacity of the unit down to an outdoor temperature of -15°C degrees. Essentially, "you can keep your home at 21-24°C inside even when its -15°C outside, using only a heat pump"
"The FS is a big step for us, because we've pushed our 100% heat capacity another 5°C. What that means is I have substantially more heat between -15 and -20°C." You start losing capacity as after -20°C but the heat pump will continue to operate down to -27°C.
Efficiency
"We start at about 4.5 COP (Co-efficiency of Performance) and once we get down to the -20's that's when we see our numbers drop." The typical range for heat pump COP is between 2 and 3.5 COP, depending on the outdoor ambient air temperature. As the outdoor temperature drops, there is less heat to absorb from the air, decreasing efficiency. With the new FS model, efficiency and capacity are no longer a problem. Interestingly, heat pumps are the only heating and cooling system available on the residential market with COP higher than 1.
The variable speed capacity of FS makes the temperature more precise, scaling back as it gets closer to the regulated temperature. "It will only give you exactly what you need to maintain that temperature," noted Sharman.

The unit also has an infrared sensor that tracks heat signatures to detect when the room is occupied by a person to make it more efficient by conserving energy while its unoccupied.
The majority of very cold days (without the windchill) throughout most of Canada fall between -15°C and -20°C, depending on the location, that ends up working out 20-30 days in a year. With the additional range, the FS can maintain its efficiency as a primary heating source in most Canadian climates. Larger systems can make it up to -30°C.
Another benefit is in a condo or townhouse application where there isn't much yard space, heat pumps have a small physical footprint. Additionally, in the summer, a heat pump will remove moisture from the air, which helps regulate the temperature and maintain efficiency.
The FS Heat Pump also utilizes several patented technologies: Dual Barrier Coating prevents dust and dirt from accumulating on the inner surface of the heat pump. Blended "fluorine particles" prevent hydrophilic dirt penetration and "hydrophilic particles" stop hydrophobic dirt from getting into the system. This allows the key internal heat pump components to remain clean. Nano Platinum Filters break down bacteria, mould, and odours. The Deodorizing Filter ensures odorous components are destroyed at the source. The Electrostatic Anti-Allergy Enzyme Filter neutralizes viruses, bacteria, and allergens, filling a space with fresh air.
Multi-Zone System
Other models, like the MXZ can have one outdoor with up to 8 indoor units. Multi-zone systems give more flexibility in temperature for specific rooms. Which means cost savings, "If I only heat the parts of the house in use, I'm using at most, maybe three or four rooms – in my case that means 30-40% less usage; or I can put it on a daily schedule."
With a multi-zone heat pump system, you can conserve energy usage by automating when a room/zone is heated or cooled.