Atkore FRE Composites High-Strength Lightweight Fiberglass Elbows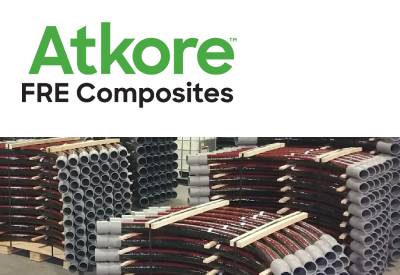 March 7, 2022
Elbows are an essential fixture used to change the direction of electric and utility conduit systems. Fiberglass elbows are s a cost-efficient alternative to their rigid steel/PVC counterparts.
The epoxy fiberglass material provides high-strength and lightweight support to a conduit system, with a low coefficient of friction; allowing electrical cables to be pulled through easily.
FRE Composite fiberglass elbows are a readily available solution to your raceways, with no burn-through, corrosion resistance, and low coefficient of friction. Elbows are supplied with factory ends, PVC SCH.40 couplings, or female threads, in all different combinations. They can easily be paired with any other raceway type (rigid steel/PVC).
Fiberglass Conduit Elbows Advantages

BURN-THROUGH
Epoxy fiberglass bends and elbows have a strong resistance to being cavitated or pierced due to rope pull.
LOW COEFFICIENT OF FRICTION
Lower coefficient of friction than steel and considerably lower than PVC. The lower friction allows electrical cables to be pulled through easier, resulting in labor-savings.
LIGHTWEIGHT
Considerably lighter than steel and lighter than PVC SCH.40
CORROSION RESISTANT
Epoxy fiberglass is not affected by the effects of water and will not degrade in corrosive environments.
COST-EFFECTIVE
Lower cost of installation, compared with steel elbows.
COMPLIANCE WITH UL / CSA / NEMA STANDARDS
Go HERE for more information