Red Dot Weatherproof Metallic Covers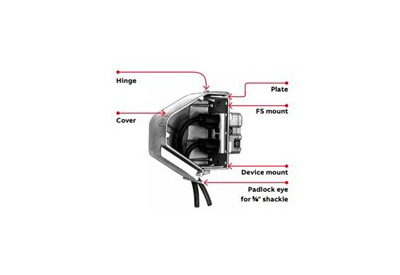 June 24, 2021
Weatherproof covers are required by the Canadian Electrical Code anyplace where water may come in contact with electrical outlets when a plug is in use. Code Keeper covers are also ideal anywhere to prevent accidental disconnects, reduce tampering and to provide a lockable cover that meets OSHA requirements.
1. Residential – holiday and landscape lighting, wells and sump pumps, sprinkler systems, plug-in timers, garages, patios.
2. Commercial – vending machines, car washes, outdoor signs, restaurant kitchens, greenhouses and nurseries, marinas, garages, lumberyards.
3. Industrial – manufacturing areas, food processing, water treatment plants, security cameras, laboratories, loading docks.
4. Recreational – pools and spas, parks, playgrounds, zoos, RV connections, athletic fields, ball parks, stadiums, outdoor stages, amphitheaters, golf courses.
Canadian Electrical Code, Rule 26-708
2) Receptacles of CSA configurations 5-15R, 5-20R, 5-20RA, 6-15R, 6-20R, and 6-20RA shall be provided with cover plates suitable for wet locations, whether or not a plug is inserted into the receptacle and marked "Extra Duty."
3) Not with standing Subrules 1) and 2), cover plates marked "Wet Location Only When Cover Closed," or the equivalent, shall be permitted for receptacles:
a) installed facing downward at an angle of 45˚ or less from the horizontal; or
b) located at least 1 m above finished grade or floor level and not in a wet location.
Red Dot Code Keeper wet location cover is NEMA 3R rated, UL listed and CSA certified and meets all the requirements of CEC Rule 26-708 (2) (3). Code Keeper covers are rugged, corrosion-resistant metal or plastic construction that provide long-lasting durability and are not subject to cracking or breaking. Made with the same Red Dot quality that contractors know and trust. Code Keeper covers offer a lifetime of use and safety.
Go HERE for more information.