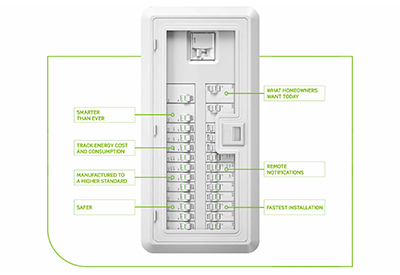 November 3, 2021
Take power to new heights with the award winning Leviton Load Center – the industry's most intelligent circuit breaker system available today. With optimal smart circuit breakers, users can get insights on energy usage and control their panel like never before.
Wire the entire panel at rough-in, without a single circuit breaker present. The Leviton Load Center's all plug-on design increases job site efficiency and provides ample room for hands to move and work freely.
Energy Usage
Is your AC really saving you money? View real-time energy consumption and trends over time on the My Leviton app to find out.
Remote Notifications
With smart breakers, you'll get notified if your freezer, sump pump, or any smart circuit trips – whether you're away for the day or on vacation for a week.
Monitoring and Control
Check your refrigerator – or any smart circuit's status – in real time.
Upgrade the entire panel or just one circuit at a time by installing smart circuit breakers. Using the intuitive My Leviton app, homeowners enjoy instant, easy access to essential elements of their load center's data via a smartphone, tablet or desktop.
The Right Circuit Breaker for the Right Application Every Time
The Leviton Load Center offers a wide variety of circuit breaker variations including GFCI, AFCI, AFCI/GFCI, GFPE, Smart, Surge and Standard with various amp ratings.
Thermal Magnetic
Best used for traditional applications where temperatures do not fluctuate far from the reference ambient temperatures for circuit breakers, 25°C to 40°C (77°F to 104°F). The face of each breaker is marked with a 'T' indicating Thermal.
Hydraulic Magnetic
Best for harsh environments where temperature extremes are common. Precision trip technology helps ensure breakers operate as intended from -40°C to 85°C (-40°F to 185°F) without re-rating.
Smart
Features Hydraulic Magnetic technology and remote monitoring capabilities using the My Leviton app. The face of each breaker is marked with the connectivity symbol indicating Smart functionality.
Go HERE for more information