Leadership changes at Canada's IEC National Committee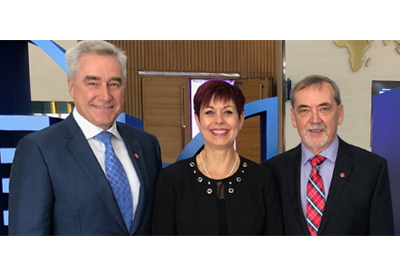 Jan 9, 2020
A Canadian standards champion is retiring after years of involvement with the International Electrotechnical Commission(link is external) (IEC). Jacques Régis's term as president of Canada's national committee to IEC (CANC/IEC) is coming to an end, wrapping up an illustrious career in the standards world that included becoming the first Canadian elected as the organization's president.
Mr. Régis first became acquainted with IEC as a standards user when he worked at Hydro Québec, where IEC international standards are key references and where staff members are encouraged to get involved in IEC technical committees. He got formally involved with the organization in 2003 when he played a pivotal role in planning the IEC General Meeting hosted in Montreal and in 2005 when he began representing Canada on the IEC Council Board.
Throughout the years, Mr. Régis has made vast contributions to IEC. Particularly, he helped give more prominence to conformity assessment work – the process that verifies that products, services or processes conform to the specified standards and work as intended. Ultimately, this is what safeguards the standardization system and ensures consumers can be confident that electrical and electronic products are safe to use, energy efficient and environmentally friendly. Among his proudest achievements, he helped pave the way for the next generation of standards experts to get actively involved in the organization and shape its future.
"The Standards Council of Canada (SCC) is incredibly grateful for Mr. Régis's commitment to standardization," said Mkabi Walcott, SCC's Standards and International Relations branch vice-president. "Canada has benefited significantly from his leadership. He helped strengthen global ties and his contributions ensured that Canadian interests were heard at the international level," she explained.
Starting in January 2020, Colin Clark will succeed Mr. Régis's as president after serving as the national committee's vice-president since 2017. Mr. Clark is currently chief technical officer at Brookfield Renewable(link is external), an SCC Governing Council member and sits on the IEC Council Board. In this new CANC/IEC role, he will continue to work closely with Ms. Walcott to maintain Canada's role as a leader in international standardization.