Southwire Launches Diversity, Equity and Inclusion (DEI) Website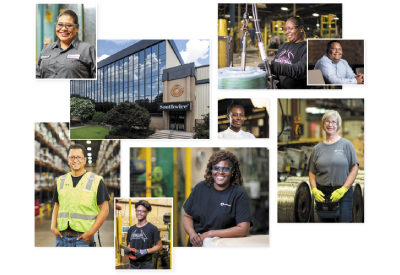 February 25, 2022
To further Southwire's mission to build a culture that recognizes and celebrates the value of diverse backgrounds, equity in opportunity and inclusivity in action, the company is pleased to announce the launch of its new diversity, equity and inclusion (DEI) website.
Southwire treasures the diversity of its employees and the communities that we represent and serve, and the company's four key values – trust, empowerment, consistency and inclusion – are the foundation of the organization's DEI strategy. 
"A focus on diversity, equity and inclusion is mission critical for our organization," said Cara Herzog, director of DEI. "Over the last several years, we have continued to prioritize and accelerate our internal and external efforts to drive progress. We believe the key to our continued success is our people, and we are committed to fostering an inclusive environment where diverse perspectives can thrive." 
Southwire focuses on fostering an environment that recognizes the value and talent of diverse perspectives regardless of gender and ethnicity. In 2014, the company established its first employee resource group (ERG), and since then, the company has expanded to six ERGs, including the Women's Network, Spectrum, Nextgen, TEAM, Officium and Allied. These groups actively promote Southwire's commitment to inclusivity by engaging employees and encouraging participation in events throughout the year.  
"We believe that every person can make a difference from any position, and we are committed to foster an environment where respect and inclusion are at the forefront of everything that we do, an environment where equal access and opportunity to learn, grow and succeed are available to everyone," said Fernando Esquivel, executive vice president of People & Culture. 
The new DEI site will provide an in-depth look at Southwire as an organization and what the company stands for, including its focus on sustainability and how its five core tenets relate to DEI for the benefit of its workforce.  
"Sustainability is focused on being mindful of our impact on local and global communities and taking actions to create a better world for future generations," said Burt Fealing, executive vice president, general counsel and chief sustainability officer. "In a very similar way, diversity, equity and inclusion is also focused on sustainable long-term efforts to remove barriers and to create equitable opportunities for everyone as part of a better world."  
Establishing its brand as an organization dedicated to DEI continues to be an area of focus for Southwire, and with this new external site, the company is communicating openly and remaining transparent about its ongoing efforts — a bold step for a private company that demonstrates its deep commitment to the importance of DEI within the organization and in society at large. 
"We are an organization with a lot to offer, and we are excited for more people to see it. We believe in our people, customers, partners, and communities," said Herzog. "The opportunity to share and connect in a new way is something that we value, and we welcome the conversations that this will bring internally and externally. We are just getting started."