The National Electrical Trade Council to Receive over 4 Million for Two New Projects in the Province of Ontario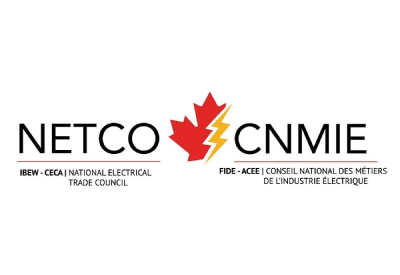 March 15, 2022
The Government of Ontario announced that it is investing more than $13 million dollars spread out over nine projects with a focus on apprentices and journeypersons in the electrical industry to achieve the skills they need and to assist employers in finding the skilled trade workers they need to grow their businesses.
The National Electrical Trade Council (NETCO) is receiving $4,191,322 for two projects that will involve their IBEW Canada training centers in Ontario to offer new training and educational opportunities to over 1000 electricians across the province.
The first project provides access to electrical vehicle charging stations and the Electrical Vehicle Infrastructure Training Program (EVITP) for certified electricians (309A) and all late term apprentices at the IBEW Training centres in Ontario.
The second project will gear up IBEW training centres to deliver virtual reality (VR) training. This training will begin in the spring of 2022 and will immerse apprentices and journeypersons into a realistic training environment where they will have the ability to learn hoisting and riggings training and other VR electrical courses.
NETCO Executive Director Chris Swick is very pleased with this funding that will accelerate training in the province. "Investing in the skilled trades is so important and NETCO is pleased to grow the already successful EVITP program, coupling it with the actual hardware, will allow the training to involve a more hands on experience," said Swick.
"We are very excited to roll out the VR training in our affiliated training centers, having seen the technology firsthand, it will enable apprentices and journeypersons to learn in a safe, realistic environment and will cut down on waste and costs for training centers in the long run," explained Swick.
NETCO is also pleased to see additional projects for the electrical industry from this same fund involving IBEW Locals 1687 in Sudbury, Local 105 in Hamilton, Local 120 in London, Local 402 in Thunderbay as well as the Ontario Electrical Industry Training Trust Fund.
For complete details on the funding and projects visit Ontario Investing in Electrical Training Programs Across Ontario HERE