NETCO Applauds Investments into Skilled Trade Workers and Electrification as Part of 2022 Federal Budget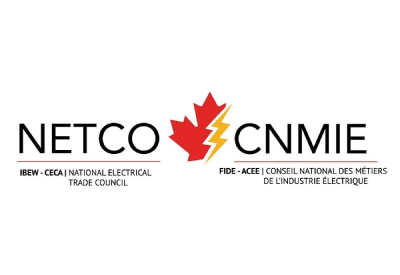 April 11, 2022
The National Electrical Trade Council (NETCO) is pleased with the direction of the 2022 budget with funding earmarked for labour and skills development and continued roll out of electrical vehicle infrastructure across the country.
NETCO Executive Director Chris Swick said these investments tie directly into the organizations mandate and we look forward to continuing the growth and implementation of our educational programs for the electrical industry as the country heads towards a net-zero future.
"We were very pleased to see the chain of funding budgeted through the Union Training and Innovation Program, (UTIP) said Swick.
NETCO has received funding from this program in the past which has supported their OASIS program. The Online Apprentice Support Initiative for Success (OASIS) fell under the Innovation in Apprenticeship Stream of the UTIP funding and has since enrolled apprentices across the country to complete various courses including areas such as green energy, mental health awareness, diversity, and inclusion.
"Many more courses are under development including energy storage, smart grids and some other exciting developments are currently in the works," explained Swick. Each year, this new funding can help 3,500 apprentices from underrepresented groups begin and succeed in careers in the skilled trades through mentorship, career services, and job-matching which is paramount at this time with the shortage of these workers in Canada.
The budget also promises continued investment into building a national network of electric vehicle charging station, something NETCO is aligned with. NETCO holds the rights in Canada for the Electrical Vehicle Infrastructure Training Program (EVITP) which provides training and certification for electricians installing electric vehicle supply equipment (EVSE). "Electrical vehicle demand in Canada is rising dramatically and so is the demand for infrastructure to support this," said Swick.
NETCO has ramped up training in this program and just certified nearly 400 participants at our International Brotherhood of Electrical Workers (IBEW) training centres in Ontario. We look forward to mirroring this program at our affiliated training centres and with our partners, including the Canadian Electrical Contractors Association (CECA) across Canada soon to meet the rising demand for this skill and to emulate the success we had in Ontario.
Go HERE for more information on NETCO