Blair Mikkelsen Awarded 2021 National Electrical Trade Council Leadership Excellence Award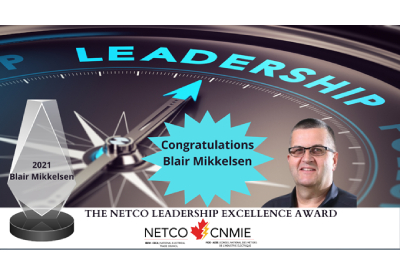 May 30, 2022
On day one of the National Electrical Trade Council (NETCO) annual educational conference that is hosting leaders from the electrical industry from across the country for two days of networking, education, a trade show and the annual award presentation, NETCO was pleased to present their annual Leadership Excellence Award to someone from the east coast and this year's recipient fits the bill and exemplifies excellence. This year's recipient was Blair Mikkelsen, Training Director at International Brotherhood of Electrical Workers (IBEW) Local 625 in Nova Scotia.
NETCO Executive Director Chris Swick said the presentation of this award is bittersweet but is well deserved and Mikkelsen will be missed for his active role in educating the future of the electrical industry. "We are thankful for his many contributions and are honoured to present him with this award."
"Mikkelsen has been described as passionate about the industry and the success of apprentices. There is a consensus among his peers that there will be a huge void and big shoes to fill when Mikkelsen retires this year and on behalf of NETCO we thank him and wish him all of the best," said Swick.
Trent Soholt, Executive Director of the Nova Scotia Construction Sector Council says Mikkelsen constantly looks for new and innovative ways of promoting and implementing apprenticeship and electrical training.
"From incorporating technology such as cameras and screens, to new technology (including solar and industrial-grade machinery) in training programs and career promotion, Mr. Mikkelsen is often on the cutting edge of training methodology while promoting them among the training team at IBEW 625," said Soholt.
"As a leader, Mr. Mikkelsen is continuously looking for opportunities to improve apprenticeship training to educate the existing workforce and to engage the workforce of tomorrow. As an organization that engages youth job seekers and career transitioners, we regularly call on him to showcase the trade, promote the electrical sector, highlight training opportunities, and share career experiences. When he is unable to participate, he is the first to find another who can exemplify the trade as effectively as he does," explained Soholt.
A congratulatory video was played for delegates from several individuals from the Nova Scotia Apprentice Agency (NSAA) including David Crawford, David Hapgood, John Daigle, and Marjorie Davison, CEO of NSAA.
NETCO looks forward to their 2023 conference in Toronto and honouring the next Leadership Excellence Award Winner.