E.B Horsman Victoria has Officially Moved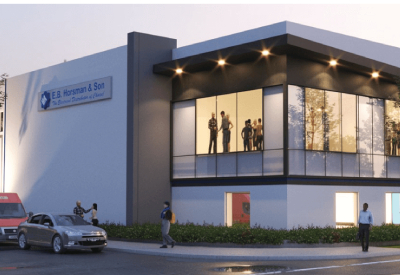 July 28, 2022
New Address: 3250 Tennyson Ave, Victoria BC V8Z 3P3
E.B. Horsman & Son (EBH) has announced their Victoria branch has moved to a new location as of July 25, 2022.
The new 12,000 square foot building is located at 3250 Tennyson Ave, just a two-minute drive away from our previous location on the corner of Cloverdale Ave and Blanshard Street. The new facility features a 28-foot clear height ceiling, a larger open concept counter service area, 22 parking spots, two EV chargers, as well as a dock and grade-level loading areas; all of which will allow us to better serve the Greater Victoria Area.
The expanded Victoria branch also provides more office and boardroom space for the Victoria customer service team and the company's local technical specialists for Automation & Controls, Process Instrumentation, Lighting Solutions, Data Communications, Power Distribution and their growing Major Projects Victoria team.
Tim Horsman, President and CEO of E.B. Horsman & Son commented, "It is very exciting that we can provide a new, more operationally efficient location which demonstrates our long-term commitment to the customer base in Victoria. It has always been our goal to provide our Greater Victoria customers with a convenient location where they can quickly and easily access all products and services they need without the uncertain delivery times common with off-island distributors. To do so, this location will be replenished daily, and now with the higher racking, we are be able to stock more products locally to ensure that we can meet the demands of the growing and dynamic marketplace. This new location is also better equipped to support and provide same-day delivery to our other four Vancouver Island branches located in Duncan, Parksville, Courtenay, and Campbell River."
E.B. Horsman & Son (EBH) returned to the Victoria market in 2013 by acquiring Albrite Lighting. After many successful years, the location expanded their portfolio and became a full line E.B. Horsman & Son electrical location in 2018. Today, Albrite continues to operate as a lighting brand of EBH that focuses on providing lighting products and services to markets such as Retail, Hospitality, Property Management and Eldercare.
Tim Horsman concludes: "E.B. Horsman & Son has a longstanding history and love of Vancouver Island. The south island is a vibrant and growing region in which we are committed to being "The Electrical Distributor of Choice!"
Note: The remittance address on all payments has not changed due to this move. All payments should still be addressed to 19295 25th Avenue Surrey, BC, V3Z 3X1.