Premier Furey, of Newfoundland, Announces Plans to Issue a Call for Proposals for $70 Million Affordable Housing Program
April 3, 2023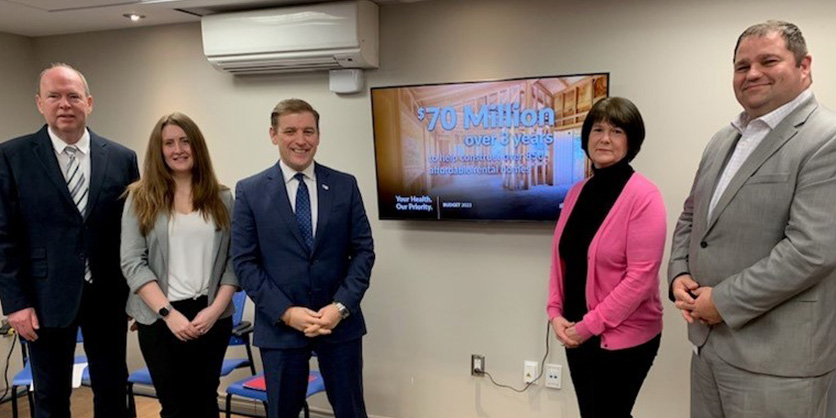 As part of the Provincial Government's effort to improve health and social outcomes, the Honourable Andrew Furey, Premier of Newfoundland and Labrador, recently announced plans to issue a call for proposals in May that will support the construction of more than 850 new affordable homes in the province's rental market. This announcement stems from a new, three year, $70 million Affordable Housing Program that will include partnerships with private and non-profit sectors, municipalities and Indigenous organizations.
This is in addition to the more than 750 new housing options that have been created over the last two years or are under construction, in partnership with the Federal Government.
Joining Premier Furey in making the announcement was the Honourable John G. Abbott, Minister Responsible for the Newfoundland and Labrador Housing Corporation, Alexis Foster, Chief Executive Officer of the Canadian Home Builders Association-Newfoundland and Labrador and Kelly Heisz, Executive Director of SeniorsNL.
Highlighted in Budget 2023: Your Health. Our Priority. this new Affordable Housing Program will provide access to affordable housing for hundreds of families and individuals. The program will focus on seniors, and will support other vulnerable populations including young adults, Indigenous peoples, people with disabilities, immigrants, and people experiencing homelessness.
Quotes from the Announcement
"Every Newfoundlander and Labradorian deserves a safe space to call home, and our government recognizes that access to affordable housing is key to helping individuals and families build a stable and secure future. This $70 million investment for a new Affordable Housing Program allows us to develop a broad range of affordable rental housing options, throughout the province."

Honourable Andrew Furey, Premier of Newfoundland and Labrador
"Everyone deserves a safe and affordable home. Our success with past community housing initiatives has proven that working with our private and non-profit sectors and other partners to develop new safe and affordable housing options, enables us to go further and do more. The program will also generate significant economic benefits to the retail and labour sectors of the housing industry."

Honourable John G. Abbott, Minister Responsible for the Newfoundland and Labrador Housing Corporation
"The Canadian Home Builders' Association of Newfoundland and Labrador is thrilled with the announcement of the new Affordable Housing Program in Budget 2023. This program is vital and we look forward to working with our government and its stakeholders to achieve the program's goals."

Alexis Foster, CEO, Canadian Home Builders Association-Newfoundland and Labrador
"Inquiries to our organization from seniors looking for affordable housing have increased this year, especially as rents and the cost of living continues to rise. Easing the financial pressures that many seniors face is welcome news."

Kelly Heisz, Executive Director, SeniorsNL