Skills Ontario's Jennifer Green Win's Apprenticeship Award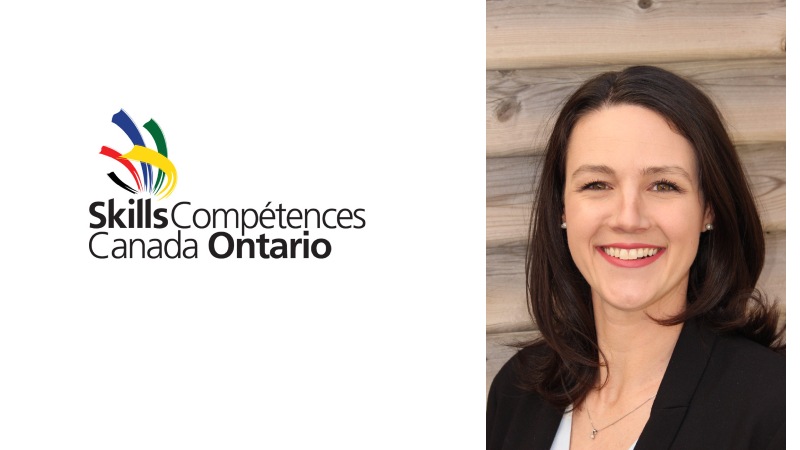 December 2, 2022
Skills Ontario is pleased to support the Colleges Ontario Premier's Awards and congratulate Jennifer Green for winning the Apprenticeship Award at the annual Higher Education Summit in Toronto on Monday. There were 126 nominees in total across seven categories.
As the only woman in her Industrial Mechanic Millwright program at Conestoga College, Jennifer Green has cleared the path for thousands of women in the skilled trades through advocacy, mentorship and is a recognized opinion leader on skilled trades and women in trades, by sharing her opinions and experiences at events and in articles, radio programs and podcasts. Jennifer was named one of WXN Canada's Most Powerful Women and a Universal Women's Network Woman of Inspiration. Jennifer Green is a licensed Industrial Mechanic Millwright, with a Certificate of Qualifications and Certificate of Apprenticeship and a graduate of Conestoga College.
Today, as director of competitions at Skills Ontario, Jennifer leads Canada's largest skilled trades competition with 2,400 competitors across 74 contests, 37,000 visitors, 800 volunteers and $11 million in-kind. In 2020, Jennifer was appointed chair of a team of apprenticeship youth advisors who were invited to work with Ontario's Minister of Labour, Training and Skills Development on a provincial strategy to attract youth to the skilled trades.
"Jennifer is an amazing example how women belong and can have phenomenal success with skilled trades as their foundation" said, Ian Howcroft, CEO at Skills Ontario. "We are so proud of her accomplishments and this important recognition award"
As part of Green's acceptance speech, she made comments about positive change for skilled trades and notes of thanks to those that have supported her and believed in her.
"Thank you to Colleges Ontario and the Premiers Award, for creating the Apprenticeship category in 2017. Recognizing that these careers are just as important, by showcasing them, it will continue to break down the stigmas and stereotypes within our province and country. Thank you to Conestoga College, as part of the backbone that assisted in solidifying my ability to start my journey and continue with me through out my career. Not only for their programs, but the care and effort from faculty."
"Recognition is so much bigger than ourselves. It's an opportunity to provide positive influence and a chance for others to learn, grow and be motivated. Thank you to ALL the people who have supported me on my path; my husband and family, all of my mentors, Skills Ontario, and many, many others. This is not just my achievement – it's all of theirs, and the nominees, too for skilled trades in Ontario."