Stelpro: One Among Canada's Best Managed Companies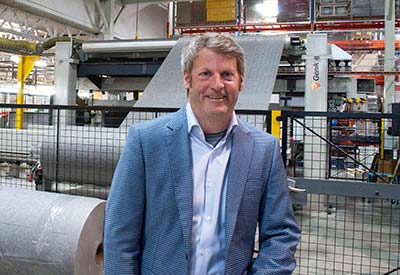 Line Goyette
Stelpro, a Quebec family-owned manufacturing business established more than 30 years ago that offers integrated heating solutions, is now one of Canada's 50 best managed companies.*President Yves Chabot said at the official announcement of winners, "We are proud that our management and our corporate culture are thus recognized across Canada. We believe it is still possible to manufacture products in Canada and Quebec while remaining competitive particularly with Asian imports. Our team has a vision, a passion and a strong will to continue performing in this environment and to respond to customer needs. Our corporate culture, focused on innovation, satisfaction and respect for our customers and partners, certainly plays a major role in our success."
Photo: Yves Chabot, President of Stelpro
The best managed companies competition was established in 1993 and has become one of the business community's most coveted awards. It highlights the performance of companies owned and managed by Canadians, with revenue exceeding $10 million.
I met Richard Paquet, Stelpro's Director of Marketing and a very active member of the industry, to discuss the company's award in more detail.
What do you remember of the process that led to this award?
"Even though this may sound like a cliché, it is beyond any doubt a team effort. Yves Chabot has a vision that he shared with us and we submitted our application together. We are not particularly fond of competition at Stelpro, but this is one of the most prestigious awards in Canada. All aspects of business management are evaluated, from the hiring plan, through financial statements and safety measures. All company directors and vice-presidents participated in preparing our submission. A sense of collaboration and motivation was palpable throughout the process. We limited the number of people involved in the process, on one hand to avoid creating expectations among employees, and on the other to benefit from the element of surprise. Employees were really excited to hear the news. You could immediately feel the team spirit grow."
What changes with an award like this?
"Since the results were announced, suppliers, clients have been in touch with us. We feel that our business relationship will become stronger and we'll form new partnerships that we had not necessarily anticipated. The visibility offered by this award is primarily within the business community, but reaches everywhere in the Canada and elsewhere."
And within the electrical industry?
"Few companies in our industry have received this recognition. As much for us as for the industry in general, it is a great success. We hope that this award will encourage other companies in the electrical industry to apply for designation as one of the best managed companies in Canada, and to share best practices. Promoting our industry is important."
What have you learned about your company in the process?
"This was an opportunity to assess our organizational practices and learn more about the daily challenges and the challenges of the departments and directors within the company. We were thus able to probe the executives and leaders of our various departments, and ask them about their strengths and weaknesses. We also learned how each department saw its role and its interaction with other departments. We were not expecting these results, but it was really interesting. And for the company as a whole, it highlights how we are proud to belong to a wholly Canadian company with more than 400 employees in Quebec, founded here, and which manufactures its products here, on the spot."
More about Stelpro
Since 1981, Stelpro has offered a unique portfolio of high-performance and innovative heating products, designed and manufactured in Quebec according to the highest quality standards in the industry. The company's 400+ employees work in two plants, one located in Saint-Bruno-de-Montarville and the other in Grand-Mère, Quebec. Stelpro manufactures and sells 800,000 heating devices annually, making it the North American leader in the electric heating, thermostat and ventilation industry; http://en.stelpro.com/site/home_pub.asp.
* "Canada's Best Managed Companies" is the country's leading business awards program. Every year, hundreds of entrepreneurial companies compete for this designation in a rigorous and independent process that evaluates the calibre of their management abilities and practices. The "Best Managed" designation symbolizes Canadian corporate success: companies remaining focused on their core vision, creating value for stakeholders and excelling in the global context.Find out more: https://www.bestmanagedcompanies.ca/en/about/Pages/Home.aspx.
---
Line Goyette is Managing Editor of EIN; linegoyette@kerrwil.com.  @linegoyette
Other articles by this author:
David Nathaniel: A Talent for Being There at the Right Time
Behind the Scene: A New Solution for Connecting Consumers with Their Utilities
Patrice Jomphe — EFC Québec Region's 2013 Personality of the Year