Schneider Electric: New Micro Data CentreSolutions Respond to Processing Speed and Other Challenges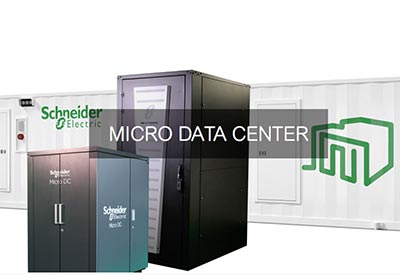 Schneider Electrichas launcheda new micro data centre solution portfolio for customers who need to reduce latency and quickly add capacity while ensuring a secure and easy to manage environment. Delivered in a single enclosure, the benefits of the new micro data centre solutions include power, cooling and management software to support a self contained, secure computing environment.
"Through this new offer, Schneider Electric is addressing the latency, bandwidth and processing speed challenges customers are facing with the growth of connected devices and data applications," says Dave Johnson, Senior Vice President, Data Centre Solutions, Schneider Electric. "We are already seeing the emergence of edge applications in retail and industrial applications, and we believe the need for edge computing will only grow as the Internet of Things expands into commercial applications."
Schneider Electric's micro data centre physical infrastructure solutions include the enclosure, uninterruptible power supply (UPS), power distribution, management software (DCIM), environmental monitoring, cooling and security – all tested, assembled, packaged and then shipped together in a factory environment.
Solutions include:
• SmartBunker SX: traditional for IT rooms
• SmartBunker CX: optimized for office environments
• SmartBunker FX: ruggedized for any environment
• SmartShelter: multi-rack, ruggedized for any environment
The company lists key solutions benefits as:
• simplified management
• high levels of security
• optimized installation and operating cost
• configured, delivered and installed in the shortest possible time
• reliability via standardization and factory testing
"Localized or micro data centers are a fact of life, but by applying a self-contained, scalable and remotely managed solution and process, CIOs can reduce costs, improve agility and introduce new levels of compliance and service continuity," says David Cappuccio, vice president, distinguished analyst and chief of research for the Infrastructure teams at Gartner. "Creating micro data centres is something companies have done for years, but often in an ad-hoc manner. By partnering with vendors, and creating a consistent and standardized architecture, enterprises can regain control of these critical assets, and increase the ability to rapidly introduce site-specific services, while reducing risks and operational costs, and improving service levels." (1)
The new micro data centre solutions are now available in North America and will release globally during 2015. Each solution has specific options available and can be customized upon request. Find out more:http://www.schneider-electric.us/en/solutions/system/s4/data-center-and-network-systems-micro-data-center/.
(1)Gartner, "Apply a Self-Contained Solution to Micro Data Centres", David Cappuccio, 26 January 2015. Document #G00268769.