Rondeau Electric: Staff's Quality of Life Contributes to Success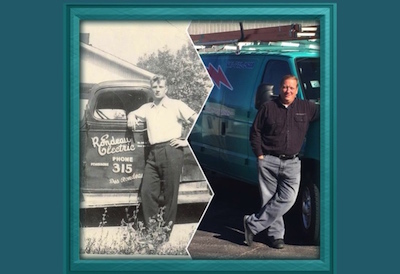 April 25 2016
Maintaining a balance between family and business is something Terry Kenny of Rondeau Electric is passionate about sharing with his staff. After all, it's what brought him back to the open shop 18 years ago.
Kenny kickstarted his entrepreneurial career when the opportunity presented itself in 1997 after founding owner, Desmond Rondeau announced his retirement.
Rondeau opened his business in 1952 with one truck and a solid work ethic to provide quality service, letting the work speak for itself. Working among such passionate trades people was, and still is, a significant draw for Kenny.
His request to have his job back was turned down, but the opportunity to buy Rondeau out when he retired that year was the open window Kenny needed to start his entrepreneurial career. From the beginning, Kenny knew work-life balance was important in order to deflect the area's high potential for poaching quality labour.
"My men can go home every night and enjoy what I enjoy," Kenny adds of Ottawa Valley life. "I can be home having dinner, going to soccer, hockey or whatever, daily."
Kenny received his introduction into the trades while at home working on his father's residential flips. "We always had a project on the go," Kenny says. In 1986 he moved from framing homes to studying and graduating (in 1988) post-secondary as a medical x-ray technician.
"A lot of the medical x-ray technician courses involved electrical," Kenny adds. "I'm no different than anybody, but I had a real great perspective going into it. As an electrician, it's important that you understand the architectural and mechanical aspects of the building."
The medical x-ray field wasn't hot in the late 80s, so Kenny turned back to his trade roots and began work with Rondeau Electric.
"I started as a student labourer and was brought on as an apprentice," Kenny adds. "Right from the toilet to the top. If you haven't been in the trenches you don't understand."Some of his staff today are co-workers from back then, including Tim MacNamara, Chad Oelke and Peter Ethier.
"Peter Ethier got me the job at Rondeau Electric as a labourer," Kenny adds of his much respected crew. "I have a staff here that is second to none."
The continued hiring demands from both CFB Petawawa and the Canadian Nuclear Lab (CNL) meant keeping his staff satisfied. Active participation in the Ontario Electrical League (OEL) is part of his plan to meet the needs of his staff.
"If you're not a member of the OEL then you're not a member of the electrical community. You're not informed enough," Kenny says. Rondeau Electric has been an active OEL member since the organization's inception. Today, this open shop owner commits to attending at least one annual OEL conference a year to ensure he keeps up-to-date on his ever changing industry. The 2015 Electrical Industry Conference held in Huntsville, Ontario last May was the most recent event Kenny attended.
"It was absolutely phenomenal," he says.
Kenny continues to encourage area contractors to get involved at the monthly OEL Ottawa chapter meetings. Many of the small contractors say they can't take the time away from the day-to-day operations of their business to attend a three-hour meeting monthly, but Kenny urges them to see the value in the information sharing and then promptly replies: "You don't have time not to go."
The informational update provided by the OEL is so highly valued that he shares it with his staff in the common area at his shop. Kenny has installed an information board that he updates on a daily basis with information from the OEL. The effort has paid off for this local business owner.
"It keeps my men up to date on such things as ESA code information, government relations, safety, etc.," Kenny says.
Rondeau Electric has a strong reputation for quality work and attention to safety and detail, which has won them multiple contracts with their biggest clients. In 2003, they added the Pembroke General Hospital to their list of major clients when they earned, and successfully completed, a $5.5 million addition and renovation job. Currently, Rondeau Electric operates with a staff of 20-25 men who complete mostly commercial contracts. Six to eight of these employees work exclusively at CNL.
"It's fantastic how the business community has supported us," Kenny says.
Keeping the lines of communication open by proactively informing his previous clients of rate hikes coming up is one way Rondeau Electric has been able to retain such a loyal customer base. You can reach Rondeau Electric by calling 613-732-2681 during regular business operating hours.
---
Stacey Roy is the editor of Ontario Electrical League (OEL)'s Dialogue, where this article first appeared.