Multi-Family, Commercial Permits Drive 3% Rise in Value of June Building Permits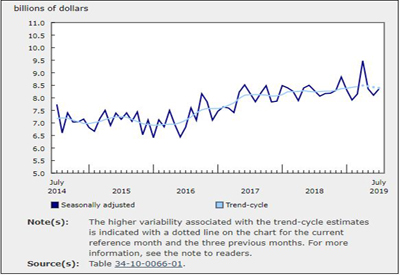 Sept 22, 2019
The value of building permits issued by Canadian municipalities rose 3.0% to $8.3 billion in July, largely due to increases in multi-family and commercial permits. Gains were reported in five provinces, with over one-third of the national increase in British Columbia. Quebec reported the largest decrease, down 4.0% to $1.6 billion due to lower construction intentions in all components of the non-residential sector.
Multi-family permits up
The value of permits for multi-family dwellings rose in seven provinces, increasing 4.2% to $2.8 billion in July. The gain was led by Ontario (+$95 million) and Quebec (+$72 million), following declines the previous month in both provinces.
The value of permits for single-family dwellings nationally edged down 0.2%.
Increases in commercial permits
The largest gain was in commercial permits, which rose 6.7% to $2.0 billion, offsetting three consecutive months of declines. The increase was largely attributable to high-value permits for office buildings in the census metropolitan area of Vancouver.
Six provinces reported declines in the value of industrial permits, down 6.9% to $558 million.
Ontario permits continue to grow
Ontario issued a record high $3.5 billion in permits in July. This was the fifth consecutive monthly gain, moving the province $209 million or 6.3% higher than the same month a year earlier. Manitoba (+$56 million) and New Brunswick (+$27 million) also reported strong year-over-year gains.
Source: Statistics Canada, www150.statcan.gc.ca/n1/daily-quotidien/190910/dq190910a-eng.htm