The Story of How Belden Improved Ethernet Cable Connectors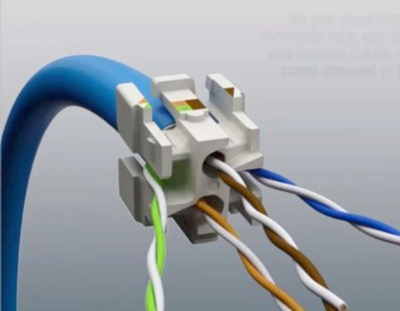 Nov 20, 2019
What do you do when you hear directly from installers that they're frustrated with Ethernet cable connectors available in the marketplace? You get to the bottom of their concerns and see if there's anything you can do to make things better.
This is how Belden's REVConnect Connectivity System was born. (But the story is a little more interesting than that!) After hearing about Ethernet cable connector concerns first hand, we decided to get to work. We didn't have a plan — or know exactly what we were going to do — but we wanted to know more about the challenges they faced.
So we gathered installers, consultants and end-users together for live, focus group sessions and sent surveys to those who couldn't make it in person. The results were telling and led to some surprises for us — as well as some challenging requests in terms of what the industry really wanted and expected from a connector. In their eyes, no connector solution was hitting the mark.
Challenges with existing Ethernet cable connectors
The installers, consultants and end-users we spoke to all told us they wanted an Ethernet cable connector that could provide several things:
1. Termination reliability with a better first pass yield and fewer termination failures. Nearly 5% of Category 6A jacks and plugs needed some level of rework after the first termination, whether it was re-punching a failing jack's conductor or cutting off a module and starting over with a new one.
2. Power over Ethernet (PoE) performance for up to 100W. LCD monitors, wireless access points and security cameras with PTZ functionality were starting to call for this power level.
3. A universal termination process that works quickly for all terminations and cables, including bonded-pair. Category 6A terminations were taking up to five minutes per connector (not including rework!), which was slowing installers — and entire projects — down.
4. The same termination process for all modules, including RJ45 plugs. Instead of learning many different termination processes for jacks and plugs, installers wanted to be able to train technicians on one methodology that would cover any style of termination.
5. Versatility. Everyone wanted to make it simple to swap back and forth between a plug, jack and coupler to make device change-outs easier and ensure that the same termination could be used in multiple applications.
In other words, the industry didn't want a different connector. They wanted an entirely new termination process that improved and simplified installation. And they wanted a universal tool that could be used for all termination steps and on all connectors. No more hauling around a bag of tools — a wire stripper, flush cutter, 110 punch-down tool and crimp tool — to terminate one jack and one plug.
Easy, right? (Tell that to our engineering team!) After these discussions, we wanted to give the industry what they asked for — even though many professionals thought it was a pipe dream that couldn't happen. Belden wanted to improve the entire installation process. But how?
After several internal discussions — and bringing in our enterprise team to collaborate with our engineers — a simple, but extremely useful, solution was created: the REVConnect core. This simple component would allow installers to finish 95% of the termination process without needing to know if the connector would be a jack, plug or coupler. Once decided, it could easily be completed by an installer or even an end-user. No more waiting for other subcontractors to complete their parts of a project or rushing to finish jobs.
A better connectivity system
The core was the inspiration for REVConnect: an entirely new, game-changing connectivity system designed to address emerging applications, connectivity trends and installer feedback.
The term "REVConnect" represents a connectivity system that is reliable, easy and versatile to use. And it addresses every concern installers, consultants and end-users had:
• It reduces rework with a first pass yield of 99% for better termination reliability. The core makes this possible, with eight gold-plated contacts that pierce the wire insulation. Contact with the copper is made inside the conductor.
• It supports 100W devices and MPTL installations so you can efficiently connect devices to the network. Including cable prep, REVConnect terminations take one minute or less for any UTP-style cable and two minutes or less for any shielded style. Bonded-Pair terminates as fast as or faster than non-bonded pair because no pair separation is required.
• An installer needs only to learn one process, have one tool and one set of core components to perform any RJ45 connectorization. One core termination is compatible with eight different connectors, from Category 5e to Category 6A jacks, shielded or unshielded and even Category 6A field-mountable plugs.
• Interchangeability is possible. It's simple to swap back and forth between a plug, jack and coupler — and anyone can do it without any special training, including end-users.
• A unique termination tool features a jacket-prep insert so you can fully prep the cable and complete the entire termination with one tool. The tool nest crimps down onto the core, cutting all four pairs and terminating the Ethernet cable connector with one crimp of the handle.
Is REVConnect right for your next connectivity project to help solve smart building challenges? Find out here.

This article was first published online.