Dee Durant Industrial Electrician Apprentice and KickAss Careers Ambassador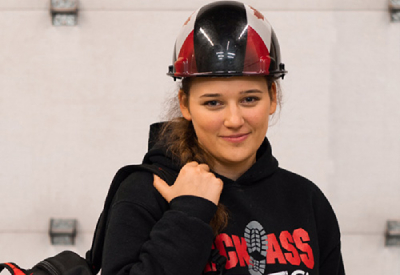 Sept 11, 2020
By EIN Editorial Team
Dee Durant is an industrial electrician apprentice attending Conestoga College and an Ambassador for Kick Ass Careers. As an ambassador for KickAss Careers she spent time shadowing mentor and KickAss founder Jamie McMillan attending events for the organization. The advancement of women in male dominated industries is an important endeavor for Durant, inspired by her mother, who was the first woman on the Brantford Police department.
In EIN's interview with Durant, she discussed the future of electrical work, and how the ongoing pandemic is affecting our country's students.
Can you tell me a bit about yourself and your career so far?
My name is Deanne Durant, but I go by Dee. I am 20 years old, and I am the first person in my family to go into the trades. My parents are both retired police officers, and my older sister is in nursing. I am currently in school to become an electrician and looking to pursue a career as an industrial electrician.
What drew you to the electrical field?
I wanted to be a meteorologist growing up, and to this day I am still fascinated by the weather. One thing that the weather and being an electrician has in common is electricity. I find electricity so fascinating that I just want to learn more about it.
What do you do in your current role, what are some of the rewards/challenges?
Currently I go to school and learn and then practice what I learn in labs. I also go on co-op terms where I work and learn with an employer. One of the rewards for going to a pre-apprenticeship program is that we are taught the safe and proper way to perform tasks. We also get to practice on labs, and not in customers' homes or in factories. A challenge with this though is that we only have so much time in a lab, so it's not every-day all-day for some programs.
What areas of the industry interest you most? Where do you hope to go with your career?
I honestly like doing most of my labs in school. Things can be daunting at first, but after a while I get the hang of it and start having fun with it. I really like working with and learning how to wire different circuits, from a DC Motor to a GFCI receptacle and light to a main breaker. I still have lots to learn and more labs, so I might still have my favourite to come. I really enjoy working with my hands and the pride and satisfaction I feel when my project works. I also like the challenge to find the best way to lay out a circuit and to problem solve when something is not working.
How has the pandemic affected your apprenticeship?
We had to finish our program online which meant no more labs. I also had my co-op at Bruce Power cancelled due to COVID-19. (We followed up with Dee and she was happy to report that her co-op with Bruce Power is back and her co-op placement is now underway!)
What trends in the industry are you most excited by right now?
I'm excited to see that more women are entering the trades. I have the privilege of knowing quite a few amazing women in the trades and especially in the electrical trade. There are five women in my program right now–myself included–and I cannot wait to see that number rise even more.
What aspects of electrical work do you think are attracting other women right now?
I was told that electrical was the cleanest trade, although I don't have an issue getting a little dirty to get a job done. The electrical trade is also all about the attention to detail and quality work. It is imperative that your wiring is neat to pass inspection and to make repairs easier. It is also very important for safety reasons that you pay attention to any hazards while wiring. I found this to be very attractive to me when I was thinking about the electrical trade, because I take pride in my work and I want it to be safe and of high quality.
Got any fun facts about electricity for us?
It's not the voltage that kills someone—it's the current! It also takes less than half an amp to kill you; anywhere between 0.1-0.2 amps causes death. For reference, a microwave takes around 4.5 amps, a kettle takes about 13 amps, and a toaster is around 9 amps.