IDEAL Industries Hosts Support Ontario Youth's Tools In The Trades Boot Camps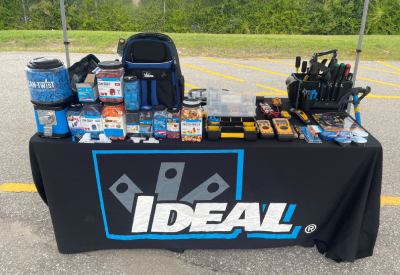 October 15, 2021
By Alyssa Kerslake
In Ajax, Ontario, Ideal Industries (Canada) Ltd. conducted an Electrical boot camp for Support Ontario Youth on September 17th. The province of Ontario recently announced a nearly $4 million investment in Support Youth Ontario programmes, which will give hands-on training for young people interested in jobs as electricians, plumbers, millwrights, automotive repair technicians, and horticulturists/transportation. The goal of Support Ontario Youth is to make the apprenticeship journey more accessible and more efficient for apprentices, employers, and other stakeholders in the skilled trades industry; to give young people from all walks of life the opportunity to learn more about trades and how to get employment in specific sectors.
Support Ontario Youth (SOY) will give up to 2,100 young people training and networking opportunities at 70 one-day boot camps in communities affected by the COVID-19 pandemic.
The boot camp was only open to 30 people who pre-registered on the SOY website. They were each given a $250 apprentice starting leather tool pack and belt, as well as a variety of hand tools supplied by Ideal Industries Canada Ltd. Attendees also got the opportunity to gain hands-on experience working with tools, writing resumes and interviewing with real potential future employers in the industrial, construction, and motive power service industries.
Following the lecture in the main tent, the attendees can work on three different projects. "There is a residential project at one tent. They got an extension cord project at another tent, which apprentices will likely have to do when they get on the job. Lastly, we have an Industrial project. These projects give the attendees the chance to see if they enjoy the work they are doing." Kevin Graham, Support Youth Ontario's program manager, explains at length. The electrical task involved a wired wall box, those who participated in the project attempted to wire their own with their new tools. They were given an instruction booklet and had the opportunity to see the finished wall boxes. "You have to invest in the trade itself to become a good tradesperson. All we want to do is light that little spark and change a life. Once you have that passion, it will become easier to find a job, and you can grow from there."
As the projects went on during the day, Sean Bernard—the national sales manager with Ideal Industries (Canada) Ltd, would take small groups into the facility to show them how Ideal's wire connectors and custom handmade leather tool bags are made. Sean explains how Ideal produced and distributed half a billion wire connectors and springs throughout North America last year. The immersive experience allows attendees to see how certain products are made in real-time.
From September 2021 to March 2022, Support Ontario Youth's "Tools in the Trades Boot Camps" will be held in various locations across the province, with a particular focus on Indigenous youth, racialized groups, women, and newcomers.
To learn more, visit https://www.supportontarioyouth.ca.