Brady Corporation: "A company doesn't turn 100 every day"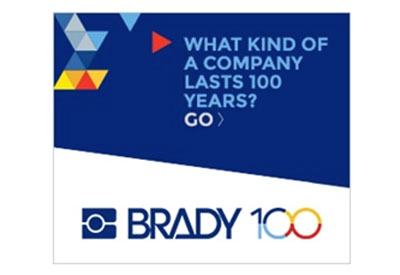 Scott Williams
Mindful that very few companies turn 100 at all, Brady Corporation is now celebrating its milestone anniversary. "Thank you for our first 100," says a special anniversary website. "Here's to our next."
The website aside, don't expect Brady to make a big splash about its centenary. Much of the recognition will take place within the organization. "It's more about recognizing with affection how the company started, what it stands for, and what it's accomplished," says Jamie Button, Marketing Manager for Brady Canada.
Electrical contractors know Brady as the leading provider of labels and sleeves for wire identification applications, as well as lockout/tagout devices, safety signs, and labels. These products are a direct reflection of the corporate vision: to identify and protect premises, products and people.
W.H. (Bill) Brady probably didn't have this specific vision in mind when he launched the business on November 11, 1914. He would have focused instead on finding customers for his promotional calendars and signage, and doing a better job than the competition. In the process, he instilled an approach that the company still embraces today: "By doing what others don't in ways they can't."
This approach has taken many forms over the years, in formats that customers may not recognize. 
"Brady products that people wouldn't automatically associate with us are involved in events happening all over the world," says Melanie Toulmin, Senior Channel Development Manager for Brady Canada. "We've gone into space with NASA, we've helped clean up the Deepwater Horizon oil spill, and we're in delivery rooms everywhere."
Most if not all Electrical Industry Newsweek readers purchase Brady products, or products with Brady components: Brady customers include more than 88% of the Fortune 100. "But since we sell our products through channels," says Melanie, "end users might not even know they're using a Brady product."
How Brady's wire labelling systems came to be
Brady's wire labelling expertise evolved in response to an urgent need in World War II for a clear and easy way to identify the masses of wiring being installed in ships, planes, and other military equipment.
Prior to the 1940s, electricians relied on primitive methods of identifying wires, including marking them with colour codes, tie-on tags, or actual notches. W.H. Brady, as the business was known then, offered a better solution: preprinted, self-adhesive wire markers. These new wire markers adhered whether planes were parked on sweltering landing strips or flying through frigid subzero temperatures at 11,000 metres. 
Brady wire markers performed better than any of the earlier solutions at a time when performance mattered more than it ever had. They continue to be one of the company's leading product lines today.
CAPTION: Unveiled in 1958, Brady's Markermatic could apply 1,000 wire markers an hour. Unveiled just weeks ago, Brady's LabelMark 6.1 label design software includes a breaker box application as part of its app-based user interface. Reflecting Brady's global presence, it also includes 10 language options. 
"We aim to be the undisputed expert in safety and identification solutions to pioneer a smarter, safer world," says Melanie. "The idea is that by providing our customers with the best tools for the job, such as lockout/tagout devices, they will come home safe. Using a lockout device correctly is safe. Putting masking tape with "Don't touch" over a switch isn't safe. The intent is not just to create a safe solution, but to encourage safe behaviour."
Responding to customer needs today
To create safe and effective solutions, Brady starts with a simple premise: ask the customer. "We're always asking for input and feedback," says Jamie Button. "We have a whole team of R&D people and marketing researchers involved in this process. For instance, we go to customers' sites and ask open-ended questions about their business needs. 'What's missing that would help you conduct your business better and more safely?' We listen, and we facilitate these conversations to come up with new solutions. We grow our business by helping our customers grow theirs."
How Brady's responding to an online world
"Younger customers are particularly comfortable in a digital environment," notes Jamie, "so our product catalogues are all available online, and we support themwith webinars, videos on YouTube, and white papers that appeal to traditional and newer customers." Nevertheless, Brady remains fully committed to its traditional channels. 
"Many people start the purchasing process by going online," says Melanie, "but typically they just want to inform themselves before heading out to a distributor. 'What's available, where can I get it…' 
"What it still comes down to is that most people like to buy from people they have direct contact with. We tend to trust people we can see and speak with. Distributors are product experts, and often know of new products and solutions that customers may not be familiar with. 
"While it may be increasingly important for manufacturers and distributors to have an online site so that customers can start their search when and where they want, or even buy online, at this point online channels are most valuable for the information they offer, not the opportunity to buy." 
"Most contractors want a product now," explains Jamie. "They don't want to wait for a delivery."
Find out more about Brady's 100th anniversary and its full electrical industry product line. Next time you attend an industry trade show, stop by the Brady booth and say hello. They'll want to hear what you have to say.