Schneider's Lorne Hedges on Square D X Series Wiring Devices, Wiser Energy, and Square D Energy Centre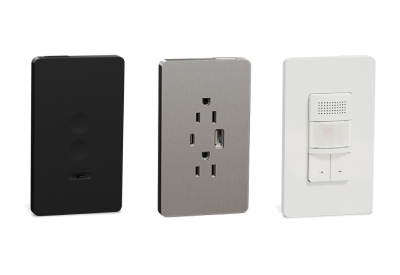 December 16, 2021
By Blake Marchand
Lorne Hedges is a National Marketing Manager with Schneider Electric for their residential wiring devices and home automation segments, he's been with Schneider for over 23 years and has spent his entire career in the electrical industry. We asked Lorne for some insight on the smart home market, with a focus on the products and technologies offered by Schneider.
"There's certainly been a big change within the connected homes and smart space environment," said Lorne discussing trends in the overall market. "We're constantly looking at what is driving consumers to invest in smart home technology. Comfort and convenience are top of mind; people want to take control over their heating, their air conditioning, lighting, and entertainment systems. Some people are driven by safety with remote door locking systems and exterior lighting systems. There's also a big trend of older homeowners aging in place in the residential market and along with that comes at home medical equipment. Considerations such as energy usage and cost, how we become greener, and more sustainable, are all factors for consumers turning to smart home technology"
The sustainability piece leads into discussions around solar and battery storage installations, which is a key element in the evolution of home automation. Another interesting aspect Lorne touched on is aging in place, not only for managing the demand of various medical equipment that may be require but also from a safety perspective if an appliance is left on for longer than normal, for example.
Addressing consumer demand for ease of use, safety, and sustainability is at the core of Schneider's Square D Wiring Devices which allow you to control lights, devices and monitor energy usage within their Wiser Energy mobile application. Lorne notes that not every outlet needs to be connected, depending on how often the outlet will get used and what it's used for.
The Square D X Series encompasses connected and traditional wiring devices, "not every device needs to be smart. If you look around your house or apartment, I'm certain you'll find receptacles that don't have anything connected into them all the time."
The connected devices are available with Wi-Fi or Z-Wave communication protocols. They can be controlled through the Wiser app, as mentioned, but can also be integrated into Alexa or Google Home, which allows the same level of control.
It was important to make the installation of the products the same as standard wiring devices, "that's the great thing about it," Lorne said, "it's identical when an electrician installs a smart switch or a smart receptacle. Until it's connected it is just a switch or receptacle, and it will operate. An electrician or a builder can install these into new builds and inform the homeowner about the app and within a few minutes the homeowner can identify the devices and have their system set up and operational."
"We're always working our electrician partners and customers to obtain their input upfront as we work through the design. They're involved in the process so that we're not creating products that make it difficult for them to conduct their jobs."
The Wiser Energy Monitoring system takes the energy monitoring one step further by applying machine learning while tracking usage at the electrical panel down to the device and plug level.
Wiser Energy monitors the entire home through the breaker panel. By collecting electrical current data millions of times per second, Wiser is able to develop a unique signature for each device in the home. It shows what is on in real time and how much energy is being consumed.
"Pulling this all together, you see that people are looking for connectivity, ease of use, and the ability to access information about their energy usage in the palm of their hand," noted Lorne.
A key benefit of Wiser Energy is gaining insight into an area where there isn't much visibility, which is particularly useful for out of sight devices like a sump pump, for example, or anything that is drawing power when it shouldn't be. Wiser Energy can also give insight into how an appliance or device is performing. It will be able to establish a baseline for how much energy your fridge or stove should consume when it's running properly. Which acts like preventative maintenance in the home.
"Wiser Energy can be installed in anyone's house – it doesn't need the smart devices. However, when you bring the devices and Wiser Energy together, then you can merge the two apps and run everything through Wiser Energy," explains Lorne. "This is where the systems really start to come together."
When talking about home automation there are a few different levels. There's the scheduling and control aspect of lights, devices, and heating/cooling, and the integration of various smart devices from different platforms into Alexa or Google Home to provide convenience, control, and enhance home entertainment. You can schedule 'scenes' that turn lights or devices on or off at certain times, get alerts when appliances/devices turn on or off, as well as get smart features out of non-smart devices.
Another aspect Lorne pointed out was whole home surge protection given the increase in electronics in the home. Even LED lighting essentially comes down to a circuit board.
Additionally, Schneider also has a Wiser Energy Approved Installer Program that provides training, product discounts, rewards for sales, an installer app, and management platform to monitor and service client Wiser systems.
The higher level of home automation comes with the integration of solar, battery storage, and EV charging, which ties into the convenience element, as well as the energy monitoring. The broader goal is to maintain the level of comfort people have come to expect while also cutting down energy usage by being more tactful about when and where energy is coming from and drawing power only when its necessary to cut back on emissions.
Sustainability is at the core of what Schneider does and the residential market presents a lot of untapped potential with respect to electrification when it comes to energy management and roof top solar.
Their Square D Energy Centre – which isn't available in Canada yet – aims to bring all electrical infrastructure into one hub, including battery storage, backup power, and solar integration alongside a connected electrical panel. The panel monitors energy usage for each breaker using the Wiser technology and applies machine learning to determine where it draws power (whether from the grid or rooftop solar), when to store energy, when to sell energy back to the utility, as well as automating EV charging so that it only draws power at optimal times.
"Where we and our partners are headed with this is to create a system that will be programmable and automated for the individual," said Lorne.
In the case of power outages, he explained, the Wiser Energy system can look at how much battery power is stored and prioritize the essential load, stopping the EV charger so that it can run the fridge longer, for example.
"These are personal decisions based on how you prefer to utilize and optimize your energy."
The Energy Centre is currently being sold in California because new builds are required to include a solar component. Lorne estimated it would be available in Canada late 2022, early 2023.
"We're seeing increased energy costs, we're seeing increased need to greening of energy and moving away from coal and natural gas. I do see a rise in solar installation. We're beginning to see the advent of back-up battery storage," explained Lorne. As these trends continue to grow there will be increased need for systems like the Energy Centre and Wiser Energy to be able to control more diverse systems at the home level.
This article origainlly appeared in Electrical Industry Canada's Digital Handbook on Home Automation, you can find the full issue HERE