How Procore Project Management Software Can Help Electrical Contractors Improve Operations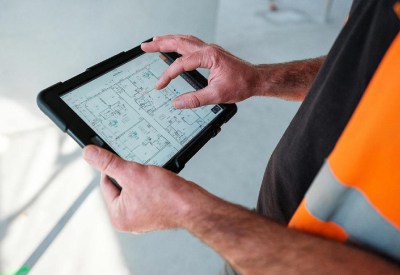 April 7, 2022
By Elle Bremmer & Blake Marchand
A strength of Procore, a provider of construction management software, is that a lot of their employees have experience working in the construction industry. This gives them insight into the pains of working in construction and helps them tailor the platform to different areas of the industry – from general contractors (GCs) all the way to sub-contractors.
That is the case with Anis Khoury and Kevin Moeun of Procore's Solutions Engineering team, who both spent time in the construction industry before joining Procore. In a recent discussion with Khoury, Manager, Solutions Engineering at Procore, and Moeun, a Sales Engineer, they shared some insight into how Procore can be utilized by electricians and which of the platform's tools can help them quote jobs, avoid re-work, and improve operations with document sharing and data collection.
Why Choose Procore?
"Our goal is to connect everyone in construction on one global platform," said Khoury. "We give everyone from owner to GC to specialty contractor the tools they need to get the job done, while breaking down the communication issues and data silos that typically happen on construction projects that we believe have been holding this industry back. Our vision is to improve the lives of everyone in construction. We build software for the people that build the world."
Currently, Procore has around 12,000 customers in over 150 countries, and US $1 trillion of construction volume has run through their platform. There are 2 million annual Procore users, and more than 1 million projects have been created on the platform already. There is also huge market growth predicted in the construction industry: the growth that they are approximating is going to be US$14 trillion by 2025. And that, they believe, is just the beginning.
The construction industry has also been notably slow to digitize itself, and that's where Procore comes in to aid in that transition.
"The construction environment is shifting, and it's evolving so rapidly that it's always changing and if we're thinking that we solved for it, then we're already behind the curve. We want to answer that, be adaptable, to be able to change with that constant change, to navigate different projects and dynamics," said Khoury.
They emphasized that while the market has been flooded with silo software solutions recently, and while those can address some challenges, they are still disconnected from one another and make it hard to extract and compile data. The industry needed a change so everyone could step back and look at the big picture and the connectivity of a project, from the administrators in the office to workers in the field. Connectivity and updates in real time help prevent re-work, and get questions or concerns answered quickly.
A big feature of Procore is ability to eliminate duplicate work. Everything that is being done in a particular tool can be pushed to other areas of the project management process. When you are doing your 'take-off' you can push your drawing from the Estimating Tool back into the Drawings Tool and the Estimating can be pushed ahead into your budget once you've started the project.
Using a platform like Procore can make paperwork more efficient and leave less room for error with electrical drawings, but it can also give you data to better understand how much labour a job will require and manage your budget. It makes it easier to track your budget against costs with visuals for individual products, as well as across all ongoing projects. As projects change and new work orders are added budgets can be adjusted to accurately reflect your budget, which include forecasting tools to help you make up for past delays or overspends.
"We're entering this age of insights where we need to be able to take data, organize it and set it up in a way where we can use it to our benefit. That's the world we're heading into and that's where Procore comes into play," said Khoury.
Another positive aspect to Procore is that there is no limit to the number of users on the platform. If a general contractor chooses to use Procore, everyone on his team will be given access (with varying permissions controls). There is also no per user license fee.
Procore is also connected to the most third-party applications on the market, meaning it integrates well with other software. Khoury explained this integration to us:
"We do realize that Procore cannot solve for everything, so we have partners that are integrated into the platform," he said. "We want users to integrate, we will never hold you back. We have the largest collection of third-party applications in the industry. We have almost 350 applications that you can connect Procore with. We did that by making the platform open and accessible to software developers, and again to the community. We have an embedded experience with some of our apps where you can open the software right within Procore."
An example Khoury provided was Google Docs. "You can open it right in Procore, you make your changes and edits, you close it, and it is shared within the same platform."
For smaller contractors and sub-contractors, you can also customize your experience by purchasing only the tools you need. The system is modular so you can add and subtract the tools/packages that work for your business. Some examples of tools Khoury and Moeun cited as useful for electricians and electrical contractors on the field are the Estimating Tool, Drawings Tool, and Timesheet Tool.
Drawings Tool
The Drawings Tool serves as a live drawing for your project. Done are the days of paper. As change orders are added to a project they can be loaded into the tool and automatically populate into the digital drawing for people working in the field, or those back in the office. This means everyone working on the project can see the same up-to-date drawings, no matter where they are.
"From the field or in the office, you can use the drawings as a go-by and know exactly where things are supposed to go and close that communication gap," explained Khoury. "Typically, in construction we'll have a list of all of your drawings and create a drawing register. It's often done in Excel, but in Procore you just upload the entire drawing set. You'll drag and drop it and have Procore scan it, recognize it [drawing number and title], and then create a register for you."
Also, if you get any revised drawings, you can use the same tool to upload the new drawing, and Procore will recognize the drawing numbers and names and get them to sync and update flawlessly—with the new drawing on top, with what's been added in blue and removed in red to save time trying to figure out any changes that have been made. This also prevents re-work. If you can see updates to a drawing in the field in real time, there is a more efficient communication and thus a lower chance of doing the wrong work, saving both time and resources.
If there is any part of the work that you have questions about, or something you are concerned about – a deficiency, or anything that just doesn't look right – you can take photos and pin them directly to the drawing. Everyone who has been added to the drawing will see the photos. This streamlines and enhances field-office communication, and lets any problems get worked out quickly. Moeun noted that, "I can show my PM [project manager] that's sitting in the office exactly which wall or light fixture I'm talking about. There's no confusion with a photo."
Estimating Tool
Before starting a project, typically an estimate is created to identify what is being bid on, the scope of the project, and what you're expected to do. The project is then priced out based on the cost of materials and the rates to pay out the team. However, this process can be difficult and prone to errors. Procore Estimating is a solution that offers fast and accurate estimating and takeoff integrated with the Procore platform, enabling users to effectively manage costs throughout the entire project.
The estimating tool can also estimate budgets—how much you intend to spend, track the costs against budget, and make sure that you aren't overspending. This will make it easier for a Project Manager or another administrator to see why a certain project is having more difficulty.
To continue the bidding process, Moeun explained, "You can get the quantities, you have pricing that you're storing in a database, you can create your estimate, you can create as much detail as you want, change things as you need to, making sure it's matching exactly what you want to create a bid to win this project."
All the information entered into Procore to create the estimate is then pushed into a proposal format that can be sent directly to the client. Procore also stores a database of your material, pricing, labour rates, material rental rates, and other information so that when it comes time to update that, you can do it in bulk and all other documents in Procore will be updated automatically with that amount. All of this can be entered initially at the time of partnership with Procore.
"When a partnership kicks off, we start off with implementation, so we have specific teams that take your current data and your information, your contact list, your cost code list, your entire catalogue, and puts it into Procore for you. And we'll teach you how to change and delete items as you need to," explained Moeun.
Procore also wants to make sure that the estimating tool is useful after you've won the project as well:
"When you've won the project, typically in construction there are things that are missed, or folks like to change things up halfway through and it results in maybe a change in the budget. Folks are maybe spending more, maybe less, and we can use the estimating tool to find out exactly what the cost difference is going to be and then push it into a change order."
Timesheets Tool
Another way that Procore is advancing digitization in construction is through timesheets. This tool can help both administrators and contractors efficiently process hours, without the use of paper.
"For electricians and specialty sub-contractors, a big timesaver is how we help collect hours from field staff," explained Moeun.
If you are working with paper to fill out time sheets, digitizing that process can make it smoother and more accurate. It can also help you gain insight into how long a particular job takes, which can factor into your quoting process by giving you more data to work with when estimating labour costs.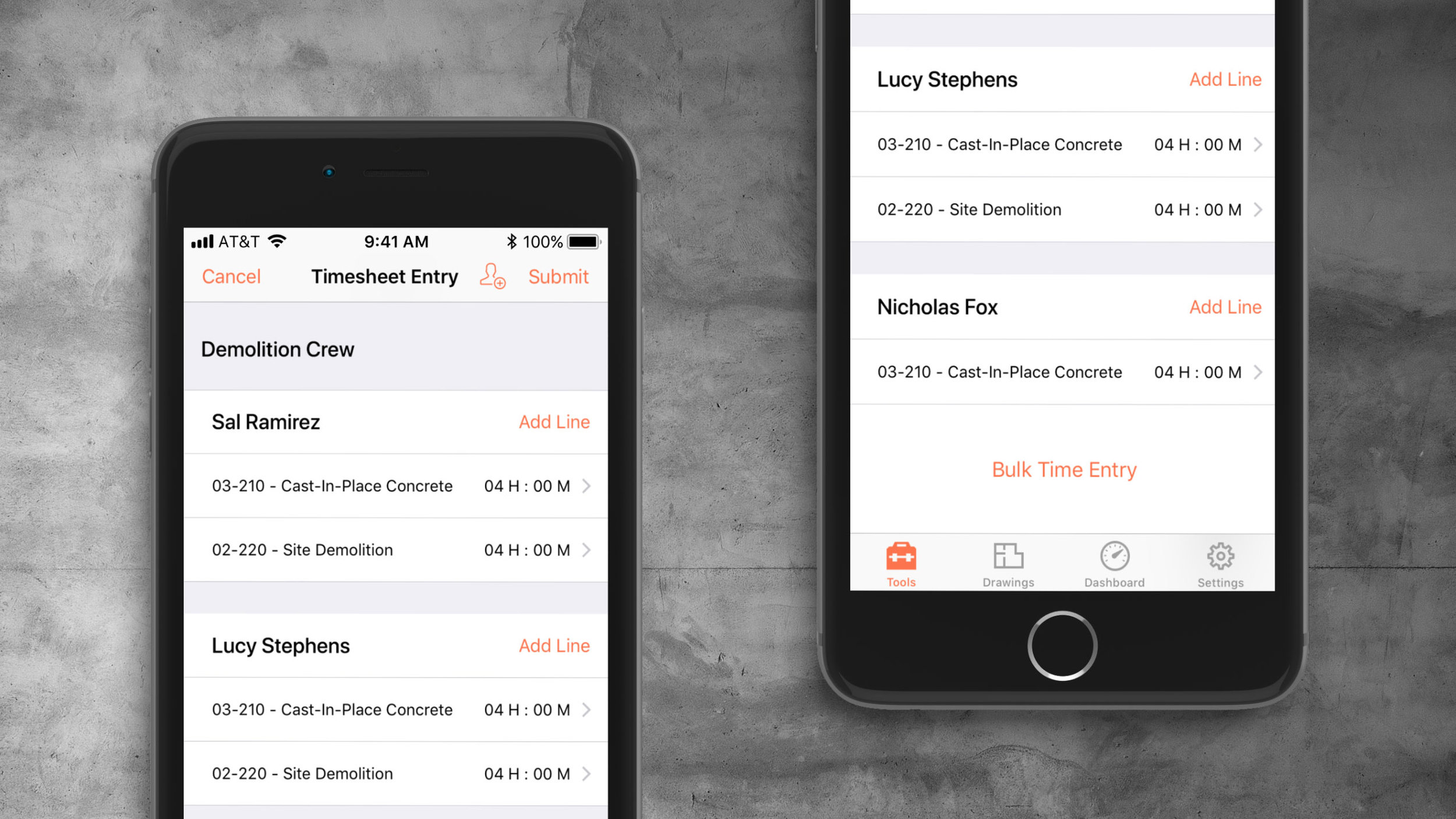 With this tool, contractors and sub-contractors can submit their time easily and automatically each day, skipping the inefficiencies and chances for error.
While digital tools are becoming more and more common in the industry, for many there is still a learning curve. And, as with any new tool, there are often questions and processes to adapt to. Procore is very focused on training new clients, or as Procore calls them, partners. There are extensive options to help support new implementations including live support, videos and more. The Procore platform, as well as training, are available in French for francophone clientele here in Canada.
The future of construction
Technology continues to evolve – as does Procore. When it comes to technology on the horizon, Khoury says that "the biggest thing that I'm seeing is the role of AI, and Procore is really getting into that. AI can translate data and KPIs into something that means something to your company. AI itself isn't new, but it is evolving, and how it is used can make a huge difference."
When asked about the future of construction, Khoury and Moeun emphasized the needs and challenges in construction are not new, but the technology to help solve those issues is. As construction continues to grow, organizations can profit from the support technology can offer. Procore seeks to incorporate and encourage digitization in the industry, and the benefits of this are clear.