Eliminating Dropped Object Hazards at the Source
November 20, 2023
Milwaukee Tool teams up with PCL Construction and EllisDon to help workers stay safe and stay productive when working at heights.
Struck-by incidents continue to be an alarming trend in the Ontario construction sector as high-rise development booms in Toronto and dropped objects jeopardize the safety of workers and the public. According to Ontario's Ministry of Labour, Immigration, Training and Skills Development, as of December 31, 2022, critical injuries caused by falling materials represent 15% of all injuries on construction sites.
"Currently, Ontario's Occupational Health and Safety Act has a vague approach to dropped objects," says Jennifer McKenzie, Director of Stakeholder and Client Engagement with the Infrastructure Health & Safety Association (IHSA). "The construction regulations lack a dedicated section addressing the prevention of tools falling and instead depend on broad declarations like section 34, which mandates the provision of overhead protection when there is a risk of materials falling onto workers."
To address existing gaps in Ontario's safety regulations, PCL Constructors Canada Inc. (Toronto) and EllisDon are engaging industry stakeholders, including trade partners like Milwaukee Tool, to help improve tool tethering efforts and educate workers on dropped object prevention.
"The industry's current approach is too reactionary," says Anders Wheeler, District Health, Safety and Environment Manager for PCL Toronto. "We need to take proactive safety measures that address hazards at the source and work collectively as an industry to develop improved safety standards on jobsites."
Reducing Falling Object Hazards with Tool Tethering
Safety leaders say one of the biggest challenges of improving dropped object prevention is getting workers to make the connection that if they need to be tied off, so do their tools.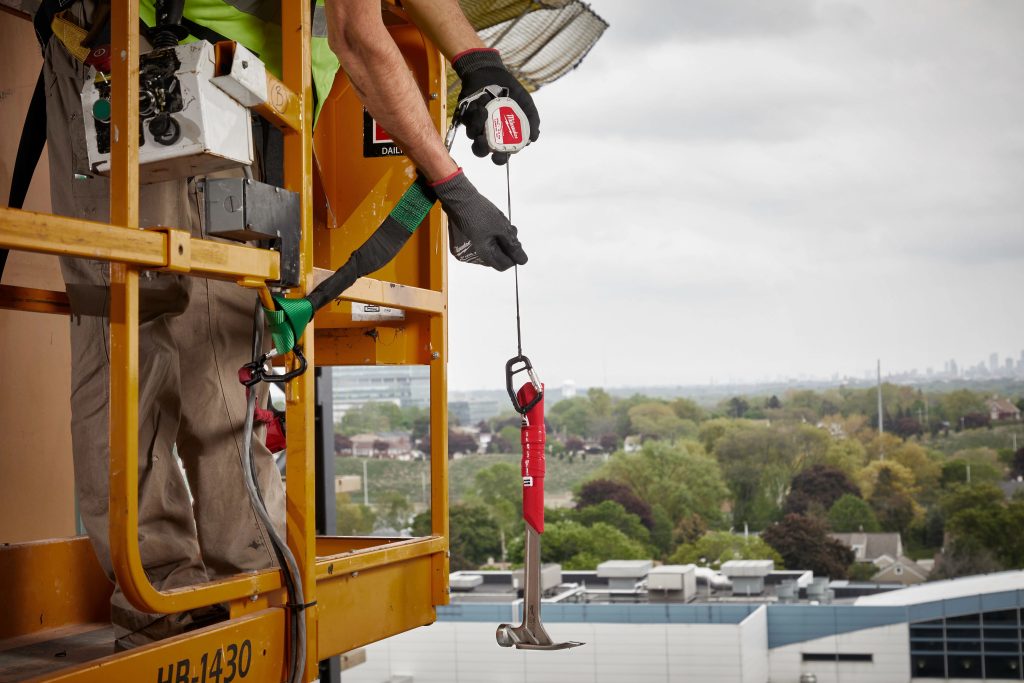 "Tethering prevents objects from falling in the first place, so eliminating the hazard is always the preferred method for reducing risk," says Dennis Christie, Director of Health, Safety and Environment at EllisDon.
Innovations in tethering solutions are improving the worker experience, allowing users to tether a wide variety of tools and equipment. Milwaukee Tool's tool lanyards provide shock absorption and slow a tool if a drop occurs, reducing the risk of injury. Double-locking carabiners ensure a secure connection, and the integrated swivel prevents tethers from getting tangled, helping workers stay safe and stay productive.
Milwaukee Tool also provides jobsite partners with implementation support to motivate safety compliance with tool tethering programs, training users to easily anchor their tools and create secure connections when working at heights.
"It has been great partnering with Milwaukee Tool and having them visit our jobsites to help us educate workers on best practices for using their tethering solutions," says Wheeler. "Some workers think there is no way to tether certain tools, and we have been able to provide guidance that shuts down those misconceptions."
While PCL Construction has implemented many safety measures to help eliminate falling object hazards, Wheeler says equipping their workforce with tethers and providing tool tethering training has contributed to a 60 percent reduction in dropped objects over the last year in the Greater Toronto Area.
Promoting Enhanced Head Protection for Working at Heights
Another opportunity to build a proactive safety culture on jobsites is outfitting workers with head protection that exceeds minimum industry requirements. While Type 1 protective headwear is required on construction sites, according to McKenzie, Ontario's current regulations do not adequately address the specific hazards associated with dropped objects.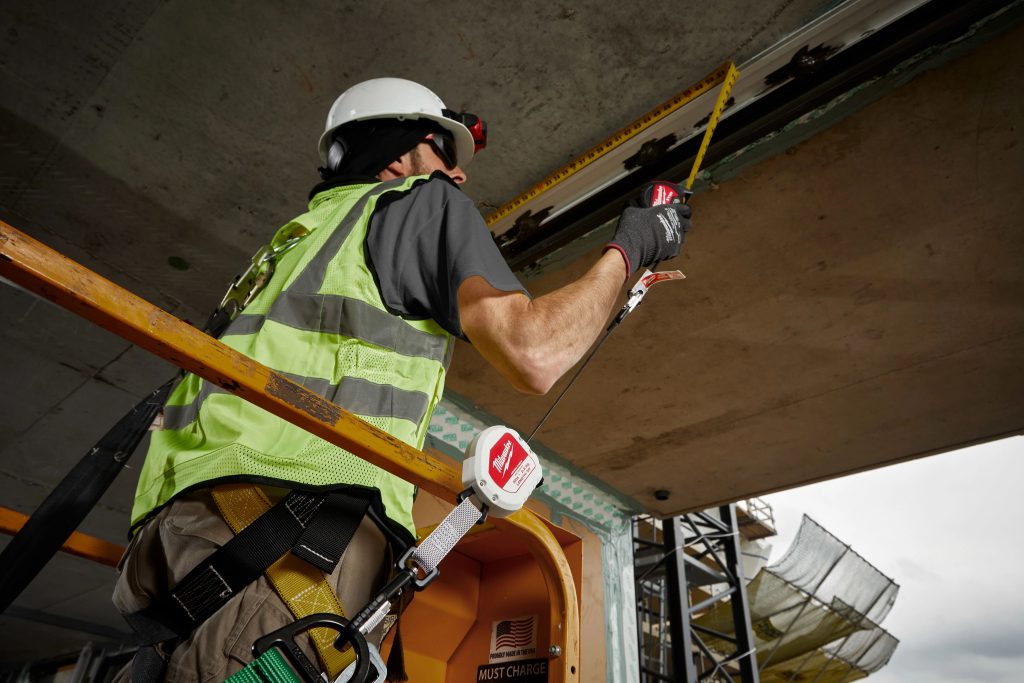 "Section 22 of the construction regulations does not indicate if a hard hat must be equipped with a chin strap to ensure head protection remains on the worker's head when they are struck by an object or fall, and whether it is equipped with a multi-directional impact system," she says.
These safety gaps are a major reason EllisDon is making a company-wide shift to Milwaukee® BOLT™ helmets, which offer protection from top and side impacts and feature a unique five adjustable buckle chin strap to help protective headwear stay on in the event of a fall.
"We have seen that when a worker falls even from just six feet off a ladder, by the time they strike the ground, their hard hat is not on, and it can result in a head injury," says Christie. "When objects fall from significant heights, they can also deflect up to four hundred feet. Type 1 hard hats are not designed for side impact, but Milwaukee's Type 2 BOLT™ helmet has an insulated barrier that could help to minimize the extent of injuries with falling objects."
Another jobsite safety challenge is that many workers will tape or tie additional personal protective equipment onto their hard hats, reducing the headwear's structural integrity. These accessories can also exacerbate risks related to falling objects when not properly secured. On the other hand, Milwaukee's Type 2 BOLT™ helmets feature six accessory slots that allow workers to simultaneously attach headlamps, eye visors, and hearing protection for improved safety and comfort while remaining safely secured.
Advocating for More Consistent Jobsite Safety Standards
Collaboration among industry stakeholders is essential for identifying hazards, taking effective measures to reduce risk, and building a proactive safety culture. "If we want to hold others accountable to improved safety standards, we need to lead by example," says Wheeler.
Milwaukee Tool continues to team up with PCL Construction and EllisDon to deliver safety events that improve dropped object prevention awareness and promote best practices. Still, industry-wide regulatory changes need to happen to provide a clear framework for employers to follow and encourage consistency across jobsites.
While costs may be associated with providing better safety equipment and training, it is important to consider the benefits of fewer workplace injuries, including the potential long-term cost savings and the opportunity to improve the construction industry's reputation.
"It should not take a fatal incident to create change," says Christie. "Progressive contractors are striving to go above the minimum requirements to protect workers and the public, and moving forward, our clients will expect to see world-class safety standard.
Reccomended Reading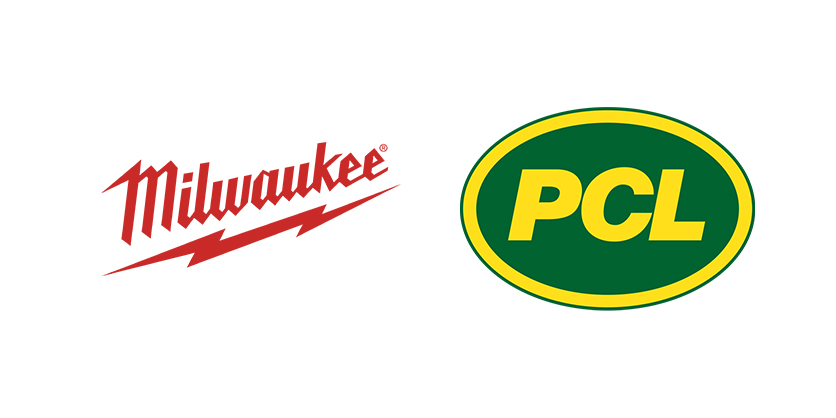 Milwaukee Tool and PCL Construction Work Towards Zero-Emission Jobsites
As the construction sector searches for innovative ways to meet sustainable development goals, battery-powered technology provides one of the biggest opportunities to reduce harmful jobsite emissions that pose risks to end users and the environment. Read More