Louis Beaulieu Discusses Innovair Solutions Rebrand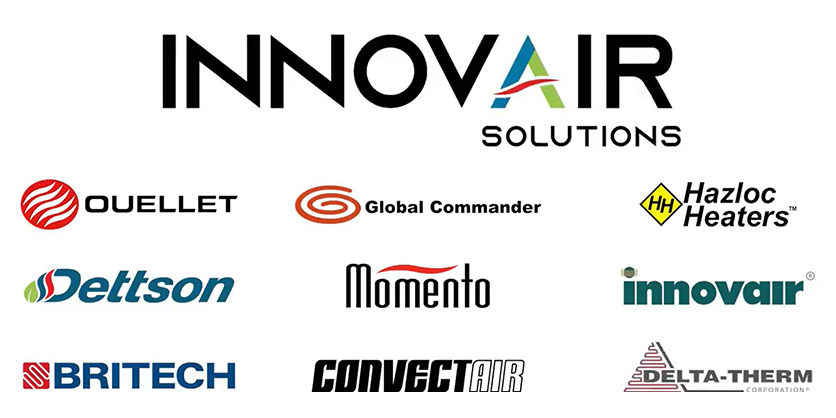 February 22, 2023
By Elle Bremmer
Recently, Quebec-based Ouellet Electric Heating Group announced their official Innovair Solutions rebrand. In mid-2021, Ouellet acquired the US-based company, Innovair, and now the parent company is rebranding and expanding under the new name. We talked with Louis Beaulieu, Innovair Solutions' CEO, for more insight into the rebranding.
You've had a bold management strategy during the pandemic which included some major acquisitions. Why introduce the Innovair Solutions rebrand now?
We have been strategic in our acquisitions to add products to our lineup and to expand into certain markets to accelerate our growth. We remain committed to our existing brands, but it became clear to us, that as each acquisition has been successful and continue[s] to operate we needed a brand that would federate our efforts. It is important for us that our employees, partners and collaborators understand that there is [a] strong company that unites all these entities and that we hope everyone can benefit from this union.
How will the Innovair Solutions rebrand impact your solutions moving forward?
By joining forces, our entities can now offer a deeper product offering to our various types of customers (distributors, contractors, engineers and end users). Our objective is to be protagonists in offering innovative efficient solutions to heat and cool for various applications. Through innovative controls, smart thermostats and efficient products we are at the forefront of offering ground-breaking technologies to our customers. We do this with a focus on safety and quality that has always been our top priority.
How does global warming and energy management affect Innovair's product portfolio?
40% of the residential greenhouse gas emissions are generated by space heating in a home. Offering heating solutions, like heat pumps, that can use renewable energy is gaining momentum in North America. Our goal is to offer the most efficient units available in the market for cold climates using innovative technologies. We can also offer solutions that are affordable and last for decades, which we think puts less pressure on our planet in terms of resources such as baseboards or furnaces.
We also offer hybrid solutions that can combine carbon based fueled heaters with electric, to offer flexibility to the end users and the utilities to manage their peak periods. As we move toward a zero-emission market, we think transitory technologies will likely remain for many years. Lastly smart controls to minimize heating of unoccupied rooms and homes is also an area where we see growth in the coming years.
In the midst of the pandemic, you talked about labor and supply issues. Where is Innovair Solutions at now in regard to those problems? What are the next challenges in terms of logistics and new products in the current global context?
Labour shortages are here to stay. We have to adapt to this new reality and our acquisitions have allowed us to build up our talent pool and production capability. The pandemic has certainly put a strain on this issue, but I don't foresee things getting any better for years. As for the supply chain, things have settled over the past 6 months. However, a majority of our suppliers continue to struggle to meet demand and we have not seen lead times revert to pre-pandemic levels. As we adapt to this new reality, our model is evolving to become more resilient to supply chain constraints.
What projects will you be working on in the US market?
We've seen strong growth in the US market. Our ability to adapt to the market's needs has fueled this progression. Our objective is to build on these successes and leverage our Miami and Chicago operations to serve our customers more efficiently.
What are you looking ahead to in terms of product launches?
Technology continues to improve every year, for example this year we are launching 2 new product families as we are replacing older product families with more efficient heat pumps that are better suited for colder climates. It's an evolution that is actually moving quite rapidly and we are excited to make it happen.
Go HERE to learn more about the rebrand and to see current product offerings.