Eaton Relay Helps Achieve New Level of Energy Awareness, Safety and Diagnostics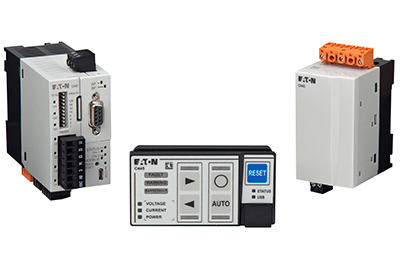 Eaton's newPower Xpert C445 intelligent motor management and protection relay, for global heavy industrial and continuous process customers, helps improve energy awareness over traditional control methods, improve operator safety, and support reliable operations through enhanced diagnostics.
"Due to the complexity involved with their start up and shut down procedures," says Kevin Trimmer, Product Line Manager, Eaton, "global customers in continuous process industries like downstream oil and gas, pulp and paper, and sanitary waste water treatment continue to look for innovative methods to better protect personnel and equipment while minimizing downtime. Eaton is delivering new innovative technologies like the Power Xpert C445 to not only improve operator safety during commissioning and operation, but also achieve better motor performance and system reliability — helping customers power their businesses more efficiently and safely."
To help customers reduce the integration cost of using an intelligent motor management device for achieving greater predictability in operations, the Power Xpert C445 is a motor management relay that incorporates
• line, load, and motor monitoring and protection
• patented advanced control and diagnostics algorithms
• extensive onboard industrial communication protocols
As a preventive diagnostic solution, the C445 helps automate maintenance through remote monitoring and troubleshooting that can help reduce the need for scheduled maintenance. Customers in continuous process industries using the C445 relay gain greater stability, control, and endurance with motor equipment lifecycles.
The C445 is the third model available in the C400 Series of Advanced Motor Protection. In 2009, Eaton released the C441 Motor Insight, which provides customers superior pump protection and reliability against poor power quality conditions. The C440 electronic overload, released in 2010, offers a cost-effective alternative to traditional bimetallic overload devices while providing enhanced protection algorithms, reduced inventory, and communications capability.
Applications that already incorporate motor protection solutions can easily integrate the Power Xpert C445 into the system based on the compact footprint requiring 30 percent less panel space than the leading competitive solutions. With Eaton's Voltage Loss Restart algorithm, users can eliminate dedicated control systems by programming the C445 to implement automatic reacceleration schemes in the event of a power failure. The modular design utilizing the latest generation of semiconductor technology is designed to provide greater reliability and reduced maintenance time and costs.
A local user interface display and communication capabilities are available in the Power Xpert C445 motor management relay. This provides customers detailed system data to simplify installation, commissioning, and maintenance.
A durable solution designed to withstand even the harshest environments, the Power Xpert C445 is engineered with personnel and process safety in mind with its built-in safety solutions, including the ability to provide safe protection of motors in potentially explosive areas (conformance with ATEX directive 94/9/EC). The C445 is also Restriction of Hazardous Substances (RoHS) compliant and meets standards from Underwriters Laboratories (UL), Canadian Standards Association (CSA), ConformitéEuropéenne (CE), China Compulsory Certificate (CCC), Lloyd's Register (Maritime and shipping) and Australia and New Zealand's C-Tick.
Find out more:www.eaton.com/c445.
 Other Products:
Eaton's Energy Efficient Linear LED Luminaire Provides High Efficacy and Cost Effective Illumination to Open Ceiling Environments
Eaton's LumaWatt Wireless Lighting Control System
Eaton's New Variable Drive Series
Eaton Introduces Metal Bezel Option for M22 Pilot Devices
Eaton's Downlighting LEDs Add Brightness Control, Up to 80% Energy Savings
Eaton's Award Winning LED Parking Garage Luminaire
Eaton's Area Luminaire Offers an Efficient, Low-Maintenance Solution with 85% Savings
Eaton Offers Efficient Asymmetric Lighting Solutions for Large Open Spaces
Eaton's LED Roadway Luminaire: High Performance, Energy Savings and Affordability
Eaton's Halo LED Recessed Downlights for Slope Ceiling Applications
Eaton High-Performing Ambient LED Luminaire
Eaton's Auto-Monitoring GFCBs and Wall Receptacles Advance Electrical Safety, Reliability
Eaton Laser-Etched Labels Help Authentication, Combat Counterfeiting
Eaton's J-Hook Colour ID Products for Data Centre and Light Commercial Cable Applications
Eaton Electric Vehicle Charging Stations: New Cord Connected Home Charger