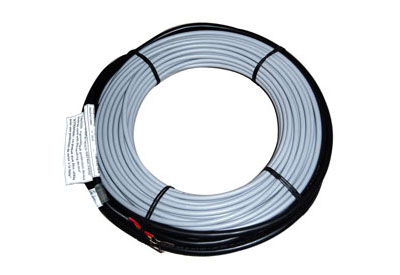 October 17, 2017
BRITECH SNOW-CABLE units are designed to be installed under concrete, asphalt or interlocking bricks. Maximum flexibility, they are perfect for driveways, walkways, or ramp as well as stairways and irregular shapeds areas. BRITECH Snow Melting Cables are the perfect solution to new construction and landscaping renovations because of their tough construction and ease of installation.
Construction:
• Heating conductor (Twin)
• Fluoropolymer insulation
• Metal sheath
• High Temperature Material outer jacket
Technical data:
• Supply voltage: 240V
• Linear load: 11 watts/ft
• Cold lead length: 5 m (16 ft)
• Cable diameter: 7.0 mm (5/16″)
• Minimum bending radius: 6 times cable diameter
• Tolerance on conductor resistance (%): -5% to +10%
• Range of operating temperature: -15°C to +105°C
• Maximum exposure temperature: Can withstand Max. 240°C for 10 min.