Mersen MHi-T High Temperature Bus Bars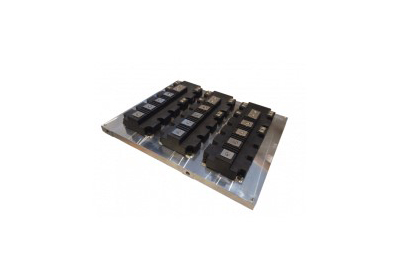 Oct 5, 2020
Using a combination of polyaramid dielectric insulation and high temperature adhesive, MHi-T High Temperature Bus Bars are designed to respond to increased temperature rises in Wide Band Gap technology systems. While traditional laminated bus bars are limited to a working temperature of 105°C, Mersen's MHi-T bus bars allow for increased working temperatures up to 180°C.
Today's customers turn to Wide Band Gap (WBG) technologies such as SiC and GaN based power modules to increase power densities in their drives and inverters designs. Due to their inherent nature, WBG modules introduce an increased level of heat into their laminated bus bars connectors. Increased temperature rises on standard laminated bus bars may cause partial or complete breakdown of the bonding agent (glue) of the insulation, causing the insulation to lift and separate from the conductor surface, creating potential unsafe shock or short circuit faults. Mersen MHi-T laminated bus bars address this increased temperature rise in WBG power modules with higher temperature tolerances.
Features and Benefits
High operating temperature
Operating temperatures.: -50°C to 180°C (Up to 200°C peak)
According to UL tests: Insulation film RTI (220°C)
A fully qualified and standard compliant insulation film offer:
REACH and RoHS
CTI (400V)
UL94 – Standard for Tests for Flammability of Plastic Materials for Parts in Devices and Appliances V0 certified
EN45545-2 – Fire testing of materials and components for trains, Certified HL3 Class for R1 and R7
Electrical performances
Insulation film CTI: 175-250V / Class 3 (Determined by UL)
Electrical breakdown: >8kV
Applications
Motor Drives, Rail, Photovoltaic, Wind, Aeronautics, UPS and Oil & Gas
Go HERE for more information.