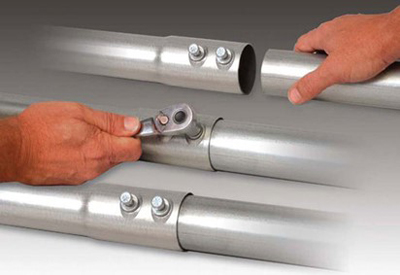 June 24, 2021
Kwik-Fit EMT is manufactured from high quality steel with a built-in set-screw coupling, removing the need to purchase inventory, and install separate couplings. At the job site, installation is much quicker and reduces material and labor costs. Clean-up after installation is simpler – with no clutter of extra couplings and empty boxes! No separate couplings to purchase, store, carry or install.
• Integral set-screw coupling formed on one end of each length of EMT
• Quick and easy, two step installation
• Labor and Material Savings up to 50%*
• No separate couplings to purchase, store, carry or install
Plus all the benefits of E-Z Pull EMT:
• Hot galvanized steel using a patented inline Flo-Coat process for durable exterior protection
• E-Z Pull interior coating provides an efficient surface for speedier wire pulling
• Outstanding mechanical protection for conductors
• Ductility for quicker and easier bending
• High grade mild strip steel for added strength and longer life
• Certified to CSA Safety Standard C22.2 No. 83.1 and to C22.2 No. 18.3
• Manufactured in accordance with ANSI C80.3
• Available in trade sizes 1-1/4″ (35) to 4″ (103)
* Installation time varies due to job site conditions.