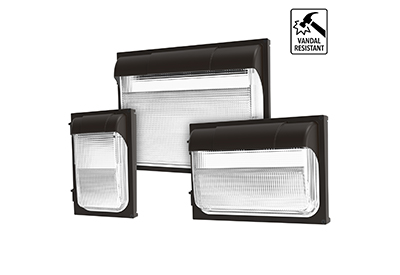 November 24, 2021
The TWPX LED wall pack family features premium polycarbonate lenses that are designed to make these luminaires tough enough to take real-world abuse in applications such as parks and recreation areas, locker rooms, entryways, or any high-traffic public spaces.
The new slim design creates a less obtrusive appearance on the building while still fully covering the unsightly stains leftover from typical HID glass wall packs. The Adjustable Light Output (ALO) feature allows the contractor to replace a wide range of HID wattages with a single luminaire, maximizing flexibility both in the field and on distributor shelves.
The TWPX family has three sizes with lumen packages ranging from 2,700 to 13,200 lumens and are designed to replace 70W to 400W HID wall packs.
Go HERE for more information