New Features Added to FuseFinder App by Bussmann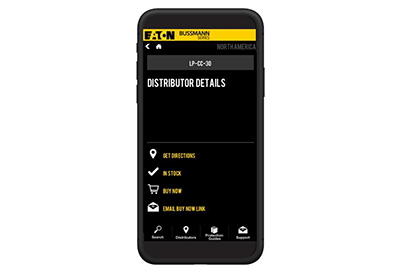 February 21, 2022
The Bussmann series FuseFinder app identifies products through the use of an extensive text-based cross reference and part search database, consisting of over 300,000 cross reference parts, as well as through the use of Optical Character Recognition (OCR) to read part numbers from product labels using a device's camera.
FuseFinder features an authorized distributor locator, which pulls from our vast network of electrical distributors to locate the nearest option, or allows users to search a specific area.
New features that make locating and purchasing product easier
After selecting a part and locating a distributor through the app, users may see a "Buy Now" option on select distributors. Clicking on this will take them to the distributor's webpage for that product. Additionally, distributors with stock available will show an "In Stock" icon above the "Buy Now" option. We've also added an option to "Email Buy Now Link" so users can quickly send parts to an authorized buyer, if needed.
Go HERE for more information