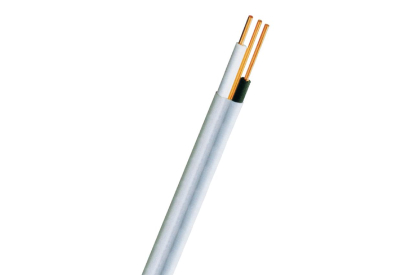 June 10, 2022
CSA C22.2 N° 48
CSA File #LL23462 Class 5821 02
Two or three copper conductors with 90ºC PVC Nylon T90 Nylon insulation. Bare bonding wire and overall jacket of moisture resistant and flame retardant PVC, with FT1 rating.
Jacket Colours:
#14 AWG – White 2 & 3C #14 for General Application
– Blue 2C#14 for Bedroom Outlets terminating at Arc Fault Circuit
Interrupters (AFCI)
#12 AWG – Yellow
#10 AWG – Orange
#8 AWG and larger – White
Insulation Colours:
2 Conductors – Black, White
3 Conductors – Black, Red, White
Application
For open or concealed wiring in dry or damp locations where not exposed to mechanical injury.
Maximum conductor temperature 90°C.
Approved for use with ceiling fixtures.
Minimum recommended handling temperature minus 25°C for 2 conductor cables and minus 10°C for 3 conductor cables (with suitable handling procedures).
Go HERE for more information