Prevent Water Damage to Electrical Systems with O-Z/Gedney Weatherproof Boxes, Covers & Lampholders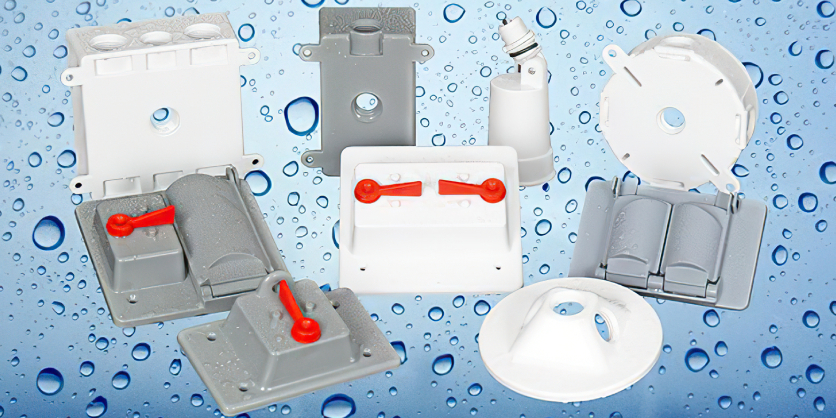 February 16, 2023
O-Z/Gedney weatherproof single- and two-gang boxes, covers, and lampholders prevent entry of damaging dirt, dust, and moisture into electrical systems. Constructed of durable PVC or polycarbonate, these rugged products are engineered for highly corrosive industrial areas, or wet outdoor locations, such as parking lots, marinas, beaches, docks, and pools. Continuous box and cover compression ensures complete sealing at the gasket interface.
By using these products, electricians will achieve needed protection when installing branch circuit wiring, switches, receptacles, GFCIs, or lighting in wet locations. In addition to sealing out moisture, the boxes, covers, and lampholders are resistant to impact, mold, and distortion from extremely hot or cold temperatures. Electricians will appreciate the smooth, accurately tapped hubs that prevent wire abrasion, and how the formed-in-place mounting lugs improve installation efficiency. Also, locking swivel knuckles on the lampholders enable positive lamp positioning and accurate directional aiming.
Weatherproof boxes are available as gray or white 1-gang, 2-gang, or round boxes with matching covers including lockable models. Lampholders are conveniently supplied with locknuts, porcelain sockets, and internal gaskets. Clear UL and volumetric markings are cast into each box to facilitate electrical inspections. O-Z/Gedney weatherproof boxes, covers, and lampholders are cULus Listed and UL and CSA Certified.
Go HERE for more information