Hubbel Advantage Series Pin and Sleeve Devices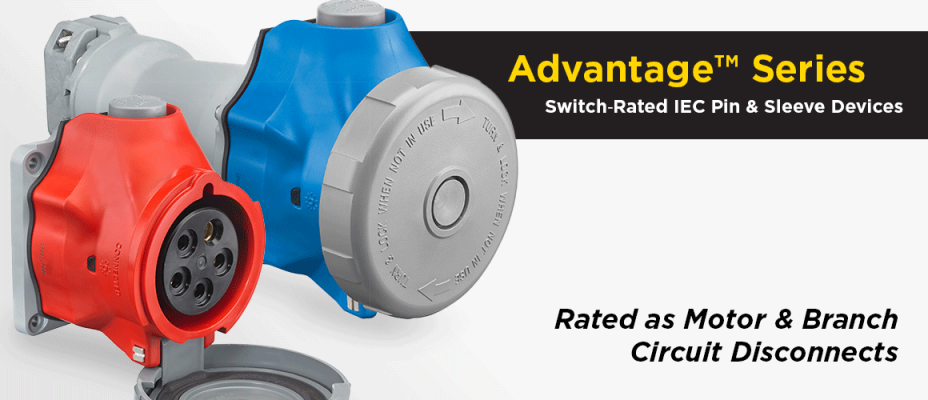 January 4, 2023
Demanding environments call for high performance pin and sleeve connections. To develop the Advantage™ Series, Hubbell has taken their highest performing Pin and Sleeve Devices and made them even better by increasing the horsepower ratings, adding the switching capabilities of a general purpose branched disconnect, and wrapped it up in a compact design.
The Advantage Series Switch Rated IEC Pin & Sleeve Devices are available in 30, 60 and 100Amp versions and are approved for both motor and branch circuit disconnects.
Hubbel Advantage Series Features:
∙ Spring-Loaded Disconnect Button: Oversized for easy actuation with gloved hands.
∙ Superior Grounding Design – The only switch-rated device with a continuous unswitched ground increasing safety.
∙ Impact Resistant Cover Arm: Compact durable internal swing arm is fully shrouded, protecting it from damage.
∙ Superior Water Ingress Protection: IP69k & UL Type 4X,12
∙ Power Indicating LED Lights: Provides visual verification of power when connected.
∙ Ergonomic Design: Hubbell puts the Advantage™ into the palm of your hands with the easy-to-use leverage grip design from Hubbell.
∙         Spring-Loaded Cover: Spring-loaded to the open position, reminding users that the cover must be secured to ensure maximum ingress protection. 
Go HERE for more information