Improved DMG… Series of Power Analyzer and Multi-circuit Measurement System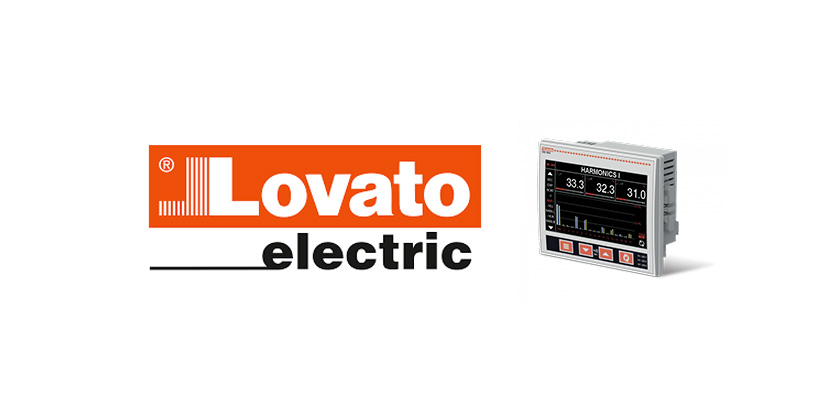 February 27, 2023
A Revolution for Energy Monitoring Applications
LOVATO Electric presents two major new solutions for energy management and monitoring: a new generation of power analyzer with widescreen LCD colour display and EASY BRANCH. The innovative multi-circuit measurement system designed for quick, easy and cabling of electrical panels with multiple measurement points. These two new solutions herald a new approach to energy management: a totally connected, centralized and greatly simplified system.
The heart of the system is the new DMG… series of power analyzers. The large widescreen LCD colour display (4.3″) ensures clear, legible reading of mains analysis parameters, all while maintaining the classic drilling template (92x92mm) to ensure perfect compatibility with standard front panel solutions. The measurements are displayed as waveform graphics, polar diagrams and harmonic spectra up to the 63rd order, thus offering everything needed to analyze the condition of the system.
One of the standout features of the DMG… series is intelligent programming. The NFC technology makes it possible to configure and set parameters, even when the device is not powered: just download the LOVATO NFC App to your smart device from the Google Play Store (Android) or the App Store (iOS). All parameters can be configured and set with our user-friendly programming software.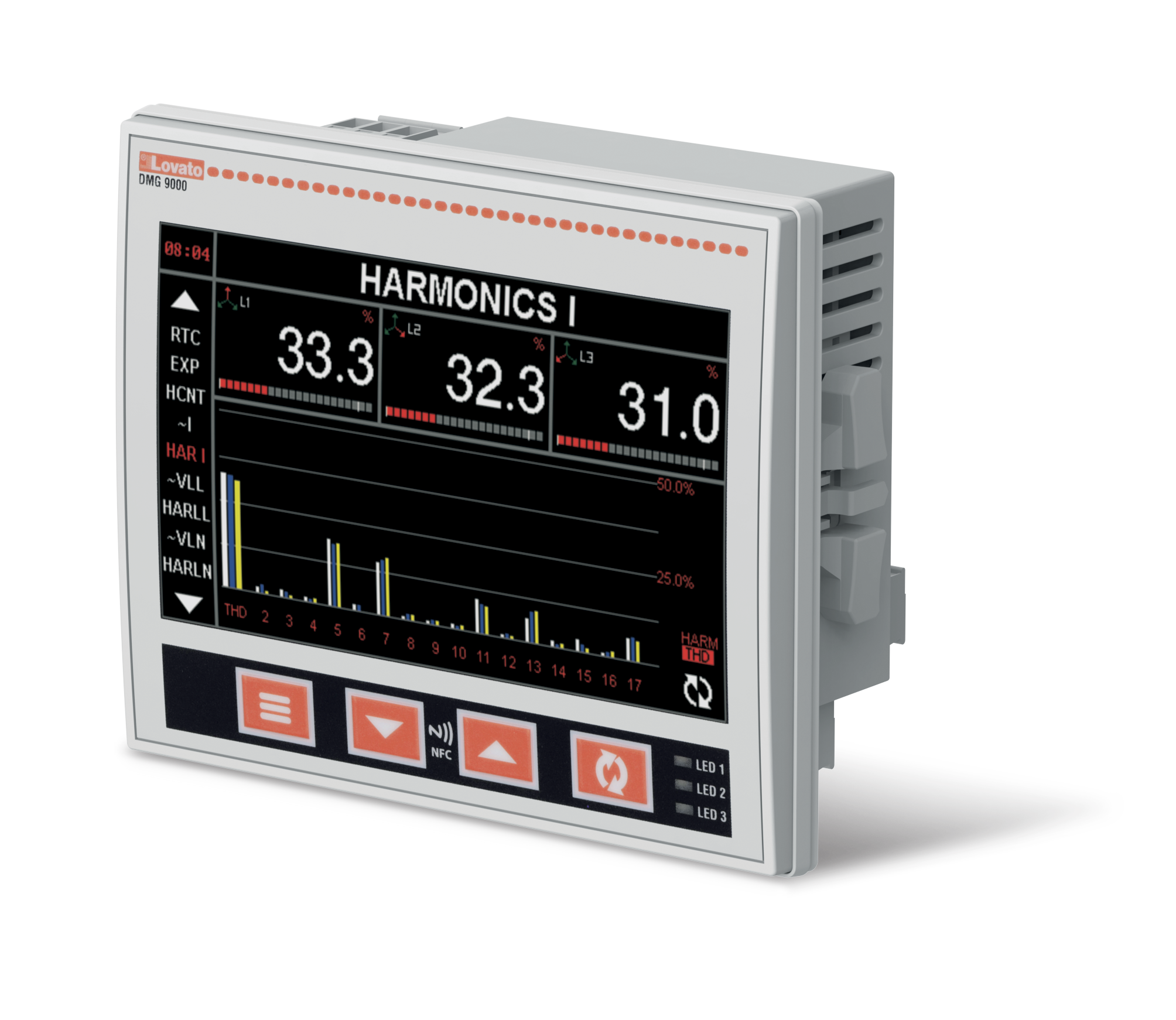 With their wide range of communications options, DMG… power analyzers can be integrated into energy supervision systems to provide exhaustive analysis of all vectors. Available with integrated RS485 and Ethernet ports, these new instruments can be expanded with up to 3 EXP… modules to add supplementary inputs, outputs and communications ports.
The option to combine digital and analog inputs enables field parameters like gas and water consumption, fluid tank levels, temperature, pressure and many others to be integrated into the system, thus providing full spectrum energy management. All measurements are extremely accurate and certified for compliance with the international standards for measurement instrumentation, including: IEC/EN/BS 62053-22 (class 0.5s), IEC/EN/BS 62053-24 (class 1) and IEC/EN/BS 61557-12 (class 0.5)
DMG… power analyzers, with their integrated PLC logic, also offer simple timed automation as well as the logical combination of setpoints and digital inputs to control signal outputs, among others. Finally, the DMG8000 and DMG9000 models can also act as web servers, for:
setting all parameters not just from the enclosure's front panel, but also from any browser;
saving measured data to their internal memory;
representing measured values in graphic and tabulated form.
This innovative product also features: programmable front panel LEDs, 10 interface languages, IP65 protection rating and an optical port on the back panel for updating its firmware and connecting to the programming software.
NFC Configuration
Thanks to NFC technology, it is possible to configure and modify parameters (even when the device is not powered) through LOVATO App, which can be downloaded for free from the App store for Android and iOS smart devices.
PLC Logic
Thanks to the built-in PLC logic, the power analyzers can perform simple automations related to timers and alarm states and digital inputs. Programming with "contacts"(Ladder) is simple and intuitive thanks to the use of configuration software downloadable for free from the website www.lovatoelectric.com.
High Accuracy Level for Measurements
The language shown can be selected from a large number of choices: English, French, German, Italian, Spanish, Portuguese, Polish, Russian, Czech, Chinese..
Widescreen Colour LCD
The large size of the colour LCD (4.3") allows for the optimal view of measures and parameters in a clear, simple and intuitive way.
Programmable LEDs
3 front LEDs are programmable and let the user know the status of the device at any time: alarms programmed by the user, status of digital inputs or outputs, emission of pulses indicating energy consumption, communication in progress.
10 Languages
The language shown can be selected from a large number of choices: English, French, German, Italian, Spanish, Portuguese, Polish, Russian, Czech, Chinese..
The Multi-branch system
DMG… power analyzers are primarily designed for mains analysis, but accessories can be added to enable them to measure the parameters of numerous loads, using quick and easily cabling. In industrial and commercial applications, installing a system for monitoring the parameters of multiple loads in an electrical panel is typically a complex and laborious task. The conventional solution consisted in installing a measurement device for each load in the field, which resulted in difficult, complex and time-consuming cabling, as well as occupying considerable space in the panel.
LOVATO Electric now offers a completely new energy measurement system which is innovative, precise and far simpler than the conventional approach, by sharing the voltage measurement and delocalizing current measurements to the vicinity of the loads themselves. This is EASY BRANCH, LOVATO Electric's multi-circuit measurement system, a genuine revolution in the field of energy monitoring.
• Easy Branch system advantages:
With a single point of access to the data and the current measurement modules installed downline of the loads, the EASY BRANCH system offers numerous benefits:
• Easy Branch system components: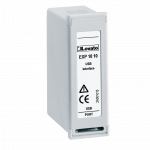 To better understand the effectiveness of the EASY BRANCH system, let's compare it with a conventional solution in the form of a practical example. If you need to measure 5 three-phase loads in an electrical panel with the EASY BRANCH system, then you need: 1 power analyzer, 1 EXS0000 bus module, 1 EXS4000 current measurement module, 4 electronic three-phase transformers and just 12 cables to hook it all up. With a conventional system, you'll need: 5 power analyzers, 15 current transformers and 60 cables in total. The more measurement points you need, the greater the advantages of the EASY BRANCH system!
It is clear that one of the major benefits of the EASY BRANCH system
is ease of instrument management – indeed the system is composed of just 4 components, as follows: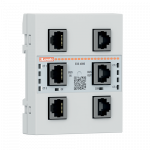 Installed in one of the expansion slots of the power analyzer, by using a standard Ethernet cable (cat.6) it connects and supplies up to 8 current measuring modules EXS4… which are automatically recognized without the need for settings by the installer. When connecting 5 or more EXS4 current modules … the EXS0000 bus module requires a 24VDC-200mA. It's possible to monitor up to 33 three-phase loads, 99 single phase loads. Including the loads connected to the power analyzer.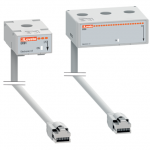 The module collects the measurements of the loads monitored by the electronic current transformers EXS3… (three-phase or single-phase) or EXS1… (single-phase). Each module measures up to 4 three-phase loads or 12 single-phase loads or a mixed single-phase and three-phase configuration. The module automatically recognizes the connected electronic current transformer and highlights, through diagnostic LEDs, the correct self-configuration of the measurement points and the correct coupling with the power analyzer.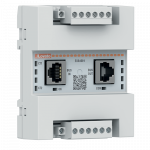 They are current transducers suitable for installation immediately downstream of circuit breakers due to their compact and modular dimensions. Available for single-phase or three-phase loads, they connect to the EXS4000 current measurement module via pre-wired 2-meter RJ45 cable, thus making connection fast and foolproof.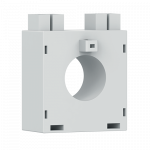 It offers the possibility of connecting monitored measuring points with traditional current transformers within the EASY BRANCH system, managing for each module up to 2 three-phase loads or 6 single-phase loads or a mixed single-phase and three-phase configuration. Current transformers of any type with secondary /5A or /1A can be used. The module highlights the successful coupling with the power analyzer through diagnostic LEDs.
TRADITIONAL CURRENT TRANSFORMERS DM…
Current transformers (CTs) type DM… are mounted in an electrical system to reduce the line current to a secondary value of 5A and compatible with EXS4001 current measuring modules.
They are available in many versions:
with wire-wound primary for reduced currents;
solid core type;
high precision for very accurate measurements;
split-core and pre-wired types which are suitable for updating the panels;
primary current from 5 to 4000A.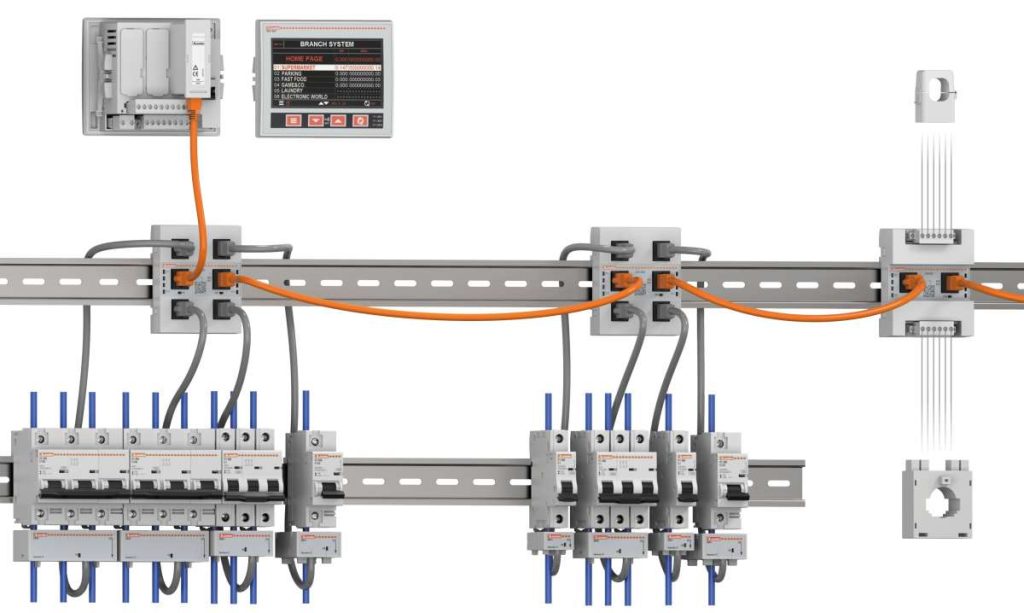 All EASY BRANCH system data are available at the central power analyzer and, via its communications port, can also be viewed remotely on any browser (DMG8000 and DMG9000 only), using the Synergy monitoring software on a local server, or via the Synergy Cloud, if the system includes the EXCGLA01 gateway data logger.
Thanks to its compatibility with LOVATO Electric's EXCGLA01 gateway data logger, a key component for a fully modern energy monitoring system, the data acquired by the field devices or ambient sensors for any type of energy vector (water, air, gas, electricity or steam) running a compatible protocol, are not only made available by the integrated web server, but can also be transmitted to LOVATO Electric's Synergy supervision software or forwarded to remote servers in formats appropriate for further processing.
The new generation of DMG… power analyzers, in combination with the EASY BRANCH system, is the outcome of a lengthy research effort undertaken by LOVATO Electric to facilitate the work of the end user while making the energy management process more efficient, modern and technological. The result is an innovative system at the forefront of modern technology, a genuine revolution in the field of energy monitoring.