FlexSet, the New Low Voltage Switchboard in Canada, Launched by Schneider Electric
May 23, 2023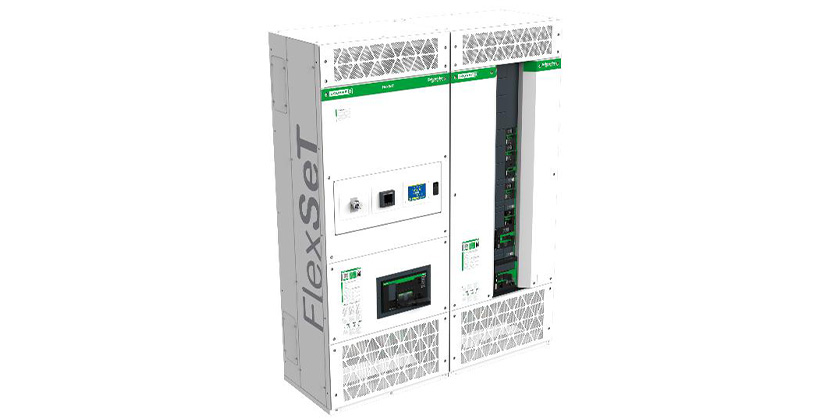 Schneider Electric recently announced its new low voltage switchboard. FlexSeT is a new cutting-edge solution that provides a simplified, modular service model for switchboard design, sourcing, installation, and maintenance.
FlexSeT is designed to help electrical professionals reduce project risk and increase construction efficiencies. With dramatically shortened lead times and design flexibility, the switchboard model has been created to help contractors, distributors, panel builders, and specifiers serve their customers' needs confidently at every stage of a project.
Flexset Benefits
The key features and functionalities of FlexSeT include flexible order design that fits specific project needs, modular and custom configurations, updated design for easy installation and maintenance, and traceable process controls for product assembly with effective digital tools for authorized assemblers. In addition, with enhanced security and reliability, the switchboard provides full traceability and access to assembly reports, ensuring quality at every step of the process.
The switchboard will be exclusively distributed in Canada through Guillevin International Inc. introducing a novel service model for switchboard sourcing, installation, and maintenance. This model aims to minimize project risks and expedite time-to-market for enhanced productivity. By offering this solution, it enables increased agility and flexibility in deliveries and configurations, leading to a comprehensive offering that drives demand for standardization and empowers a broader network of partners.
According to Shitiz Agarwal, Vice President of Power Systems, Sales and Operations at Schneider Electric Canada, "FlexSeT is designed to accept connected offers, and it is future proofed. Today, we can drastically reduce lead times from weeks to days, develop a new way of project commitments, and offer flexible supply chain to accommodate changes in project schedule."

Shitiz Agarwal, Vice President of Power Systems, Sales and Operations at Schneider Electric Canada
With today's commercial buildings accounting for 40% of global energy consumption and over 30% of their energy wasted, the launch of FlexSeT in the country supports Schneider Electric's strategic priority of hero launch products that aim to rethink the traditional oversized electrical equipment to save on both revenue and energy.
Guillevin International Inc., mentioned, "We are recognized across Canada for our service and expertise, with Schneider Electric's FlexSeT assembly, Guillevin will have the fastest response time in the industry. Our FlexSeT dedicated assembly team was trained by Schneider Electric, to build switchboards with all quality control needed to meet the highest certification requirements. Additionally, we are proud to offer FlexSeT to customers across the country with the ability to deliver projects in days that would traditionally take months to produce."

Guillevin International
This announcement reaffirms the commitment of both companies, which have been partners for the past 5 decades, since 1971, to offer the best solutions and services in the Electric Power and Distribution segments in the Canadian market. By combining their expertise and innovation, the two companies aim to deliver world-class products that meet evolving customer needs, ensuring optimal performance and satisfaction throughout the product lifecycle.
Related Story
Schneider Electric recently brought its FlexSeT low-voltage switchboard technology into Canada. Designed with shortened lead times, increased efficiency and reliability in mind, the innovative technology is sure to make its mark in the Canadian electrical industry