Cooper Lighting Recalls Fluorescent Shoplights, Striplights and Wraparound Lights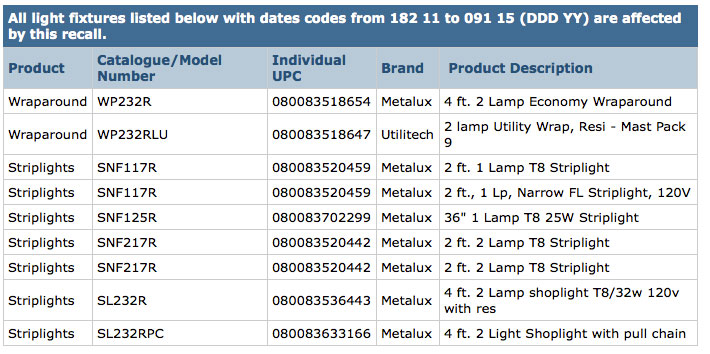 This voluntary recall involves certain fluorescent light fixtures sold under the Metalux and Utilitech brands. The affected products are UL certified with certification file number E75170.
The catalogue/model number and date codes appears on labels inside the fixture. The date code appears after the 6 digit/letter pre-code (e.g., IC5003) and comprises three digits representing the day of the year and then two digits representing the year. For example, 182 11 means the 182nd day of 2011. If the product is still in its packaging, the catalogue/model number will also appear on the package.
Hazard identified
Electrical arcing can cause the lamp to melt and overheat, posing a burn or fire hazard to consumers. Neither Health Canada nor Cooper Lighting, LLC has received any reports of consumer incidents or injuries related to the use of this product in Canada. However, Cooper Lighting has received 7 reports of overheating of these lighting fixtures in the United States. No injuries have been reported.
Almost 28,000 of the recalled products were sold in Canada and 1.6 million in the U.S. between July 2011 and April 2015. They were manufactured in China by Guangdong Gangfeng Electrical Appliances Co. Ltd. and distributd by Cooper Lighting.