Toronto's Iconic TD Centre Turns to Future of LED Lighting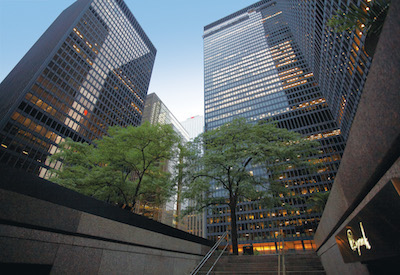 The Toronto-Dominion Centre, the first complex of modern skyscrapers of Toronto's financial district and the largest commercial complex in Canada, is working with Osram Sylvania and Gerrie Electric to replace T8 fluorescent lighting with approximately 55,000 energy-saving and long-life Sylvania SubstiTUBE IPS LED Tubes, saving approximately 2,500,000 kWh and $250,000 annually.
With its visionary design, unequalled size, and central location, this cultural landmark has played a significant role in the success of Canada's most innovative business leaders. The 4.3 million square foot complex, managed by the Cadillac Fairview Corporation Ltd., is also one of the largest LEED Platinum certified properties in North America, in addition to being one of North America's largest business communities and home to 21,000 office employees.
"TD Centre not only strives to preserve the timeless architecture of Ludwig Mies van der Rohe, but also to live up to the forward-looking design philosophy behind it by constantly evolving to meet the needs of the future," says David Hoffman, General Manager of TD Centre. "We strongly believe that sustainability is smart business and a fundamental element that sets TD Centre apart as one of North America's leading business communities.
"Cadillac Fairview is always searching for opportunities to reduce energy usage and minimize our environmental footprint," adds Hoffman. "This upgrade to the most energy-efficient LED lighting delivers superior quality and significant cost savings for our tenants."
Sylvania SubstiTUBE IPS LED T8 Lamps are energy-saving replacements for traditional fluorescent T8 lamps, reducing energy consumption by up to 40%. Suitable for dry and damp locations, they are ideal for cooler/freezer case, cove lighting, display case, parking garage, tunnels and general illumination applications.
These LED T8 lamps contain no mercury, and provide instant light and a uniform light distribution. Engineered to operate on existing instant start and select programmed rapid start electronic T8 ballasts, these lamps minimize labour and recycling costs.
They have a long 50,000 hour (L70) rated life, and are available in the 4ft, 3ft and 2ft lengths, and four colour temperatures (3000K, 3500K, 4100K and 5000K). The 4ft version is also offered in two lumen packages, 2200 lumens for no light compromise and 1600 lumens for more energy savings. Because the SubstiTUBE IPS LED T8 is not affected by switching cycles, the use of occupancy or vacancy sensors can be installed with the existing instant start ballasts for optimal energy savings.
The replacement work will be conducted by Gerrie Electric, one of Canada's largest independently owned electrical distributors.
Photo courtesy of Cadillac Fairview.