Convectair Hosts "Watchful Home" Community Meeting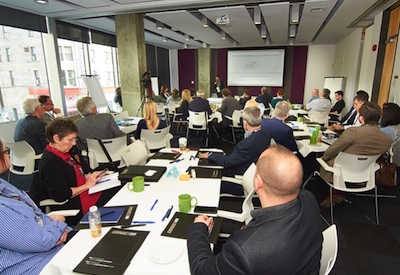 May 18, 2018
High-performance electric heating products manufacturer and distributor Convectair recently hosted the first meeting of its new "Watchful Home" community of interest. More than 30 participants from diverse backgrounds — industrial, academic, governmental and related — participated in this first conversation about housing with the aim of improving comfort, quality of life and well-being.
Convectair's Watchful Home concept builds on "the relationships between comfort in the home, efforts in working towards energy efficiency, and respect of the user," says CEO Bernard Pitre.
During the event, participants conducted reflection and ideation workshops on concepts such as the evolution of comfort in our societies, our changing needs and the impact of new technologies. This discussion was followed by a reflection on how a watchful home, equipped with these new technologies and aware of the needs of its users, could help improve their well-being in all energy efficiency. The activity ended with a guided tour of the Maison du développement durable.
"The Watchful Home" community of interest aims in particular to develop the theme of a caring home. It also seeks to explore the real needs of the consumers concerning the improvement of comfort and access to products and services that promote quality of life and well-being. This community will conduct workshops several times a year that will lead to a thoughtful and targeted realization of products and services desired by consumers.
"The Watchful Home" community of interest is part of Convectair's long-term vision of energy efficiency and the search for constant improvement in the comfort of its customers.
A successful collaboration.
"The Watchful Home" is the result of collaboration between industrial and academic partners in the Connectair ecosystem, including Mosaic (HEC-Montréal), Leviton Canada and 2KLIC.
Convectair is a manufacturer of high-quality electric heaters established in Quebec since 1983. Our goal is to improve the comfort of our customers by offering safe, efficient and comfortable heaters, both in terms of energy efficiency and aesthetics. To learn more about Convectair, please visit our website: www.convectair.ca.
At @skillsontario this year, 4 out of the top 5 Electrical Installation scores were #IBEW apprentices! Great job everyone!