Convectair Participates in the 2018 Défi Sacré-Coeur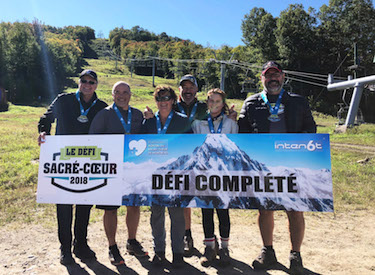 Sept 30, 2018
Six members of the Convectair team took part in a fundraising campaign organized by Montreal's Sacré-Coeur Hospital Foundation to help the hospital and its activities.
The challenge, which took place on September 22, was to climb the Laurentians' Morin Heights Summit 33 times in a relay run. In total, more than 200 participants from 24 teams braved the summit. The foundation raised more than $235,000, including a $5,905 contribution from the Convectair team.
Since its creation in 1976, the Montréal Sacré-Coeur Hospital Foundation (MSCHF) has remitted close to $75 million to the hospital, which has allowed various departments and services to move forward and remain at the leading-edge of their chosen specialties.
Convectair, established in 1983, is a manufacturer of high-quality electric heaters.