MCEE Show Announces Finalists for 2019 New Product Competition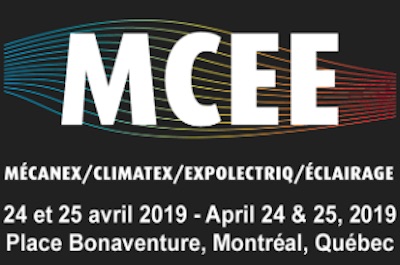 Mar 20, 2019
MCEE's New Product Competition highlights the commitment to efficiency, conservation and innovation of the electrical, HVACR, plumbing, hydronics, and lighting industry. Check out the finalists online and at the MCEE trade show, taking place April 24-25 in Montreal.
The two-day event is Canada's largest expo for the combined industry, featuring more than 400 exhibitors and attracting thousands of industry buyers and decision-makers. More than 80 new products in 13 categories will be on display in the New Product Showcase.
Here are the competition finalists.
Residential, commercial and institutional electrical products
• IZOBOX — Cover for Outside Receptacle
• Legrand — Outdoor Ground Box
• Thermolec — DCC-9-BOX Energy Management System
Industrial electrical products
• I-Gard Corporation — DSP-ADM Arc Flash Detection Module
• Richards Manufacturing (with 3M Canada) — Cold Shrink Hammerhead Electrical Connector
• Swep International AB — T-Reg Thermoregulator
Forced air heating and/or air conditioning products
• Daikin Industries — VRV Aurora Air to Air Heat Pump
• Data Aire — gPod Climate Control Appliance
• Direct air — Magic Box Air to Air Heat Pump
• Mitsubishi Electric — HVRF – VRF Hybrid Air to Water Heat Pump
Hydronic heating and/or air conditioning products
• IBC Technologies — SL Series G3 Condensing Boiler
• Nimbus Advanced Process Cooling — VIRGA Hybrid Adiabatic Cooling System
• Riello — Array Condensing Boiler
Hydronic heating and/or air conditioning components
• Refco Mfg — GOBI II & Combi Universal Condensate Pumps
• Smardt (with Enertrak) — Hi-Lift Chiller
• Taco Comfort Solutions Canada — Taco – 0018e Recirculating Pump With Bluetooth
Forced air heating and/or ventilation and/or conditioning components
• Aeroseal — Aeroseal Duct Sealant
• Blauberg — VENTO Expert A50-1 S Pro Ductless Heat Recovery Ventilator
• Les industries Dettson — Smart Zoning System
Water heaters (domestic water, space heating, and combo)
• Rheem Canada — Professional Prestige Combination Boiler
• Rheem Canada — Tankless Water heater
• Viessmann Manufacturing Company — Vitotrans 300, S3HA – D3HA Indirect Water Heater
Plumbing products and faucets
• Alt (with AD Waters) — ThermOne Thermostatic Mixing Valve
• Delta Faucet — Solar Electronic Flush Valve & Solar Eletronic Lavatory Faucet
• Franke Kindred Canada — Ozo-flo Clinical Hand Wash faucet
Pipes, backflow preventers, cisterns and accessories
• GROHE — Sense & Sense Guard Water Leak Detection System
• Rectorseal — Check-Flo Backwater Valve
• RWC Canada — StreamLabs (Monitor and Control) Water Leak Detection System
Sinopé Technologies — Sedna5 Water Leak Detection System
Protective tools, hardware and equipment
• Flir Systems — Flir CM275 Thermal imaging clamp meter
• Fluke Corporation — T6-1000 Electrical Tester
• Idéal Industries — Securitest IP Installation and troubleshooting tester for camera system
Software, controls and related components
• EV sens (with Contact Délage) — EVA Electrical Measurement System
• HBX Controls Systems — SensorLinx Btu Metering System
• Lutron — RadioRA2 Select Automation System
Interior lighting products
• ABB Produits d'installation — Emergi-Lite, Série EHZ Emergency Lighting
• Beghelli Canada — LED Lumina BS400 Parking Garage
• Cree Canada — Flex Series Troffer
• Liteline — Luna Designer Series Interior Lighting
Exterior lighting products
• Acuity Brands Lighting Canada — TWR1 LED ALO (Adjustable Lumen Output) Exterior Lighting
• Shenzhen Ledsion Lighting — Intelligent Solar Street Lamp
• Voltech International — TLT8S Series LED Tube
Competition winners as well as the grand jury prize winner, will be announced just prior to the opening of MCEE, at 10 a.m. on April 24, 2019. Photographs and more information about all of the new products is available on the event's website: New Product Showcase.
Industry members wishing to see the new products in person as well as thousands more from over 400 exhibitors can register free to attend MCEE 2019 up to April 23, 2019.