ECABC Webinar with Dan Leduc: Managing the Risk of Price Volatility and Supply Chain – June 17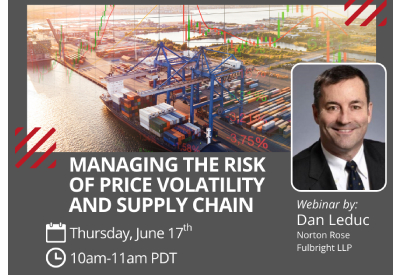 June 10, 2021
Register for a complimentary legal webinar with Dan Leduc of Norton Rose Fulbright LLP and learn his insight on how you can try to contractually manage the risks of price volatility and supply chain issues.
Speaker:
Dan Leduc, Lawyer & Partner at Norton Rose Fulbright LLP
Dan Leduc practices primarily construction law and dispute resolution. He is frequently called upon to advise and represent owners, subcontractors, suppliers and builders in such front-end services as contract review, tender issues and general construction matters, as well as in litigation and arbitration. He specializes in negotiating, mediating, arbitrating and litigating construction disputes including construction liens, trust claims, delay claims, construction insurance claims, and architect's and engineer's errors and omissions. He has extensive experience in drafting and negotiating various forms of construction contracts on behalf of owners, developers, general contractors, subcontractors and suppliers.
Date & Time:
Thursday, June 17th, 2021
10:00am – 11:00am PDT
Price:
ECABC/MCABC/RCABC Members: Free
ECABC Non-Members: $25 + GST
Go HERE to register