ECAO Joins NECA as Official Chapter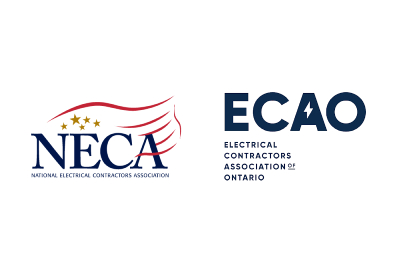 January 10, 2022
ECAO and NECA have announced that on January 1 ECAO officially joined NECA as their 119th Chapter and the first International Chapter.
ECAO has worked closely with NECA over the years. During his four years with ECAO, Executive Director Graeme Aitken said he was able to gain more insight into what being a full chapter member would entail. ECAO is looking to create more opportunities for its electrical contractor members and this further collaboration will allow them to facilitate that. As well as drawing on the educational opportunities that NECA can offer.
There are a lot of parallels between what the two organizations do and the collaboration can benefit each organization, which is a big reason expanding the partnership to make ECAO an official chapter made sense.
The annoucement was made via NECA's LinkedIn Live, more information to follow on what this partnership means for the two organizations.