Ouellet Partners with BIMsmith to Launch New BIM Tools for Architects and Engineers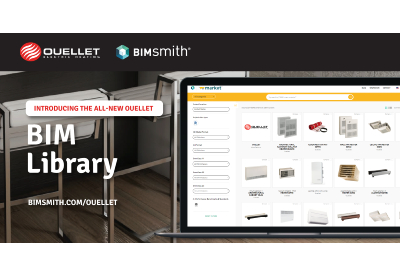 January 14, 2022
Ouellet Canada Inc. has announced a partnership with BIMsmith, the leading product research platform for building professionals, for the development of new Building Information Modeling (BIM) tools for architects, engineers, and other construction professionals.
The partnership involves the creation of data-rich digital models of Ouellet products that integrate seamlessly with BIM design workflows used by building professionals globally. Each product model contains key data to represent geometric, electrical, and performance capabilities of each product, streamlining design workflows and providing building professionals with key data early in the design process. Each product model is designed to integrate natively with Autodesk Revit, the leading architectural design software worldwide.
The partnership also involves the publishing of Ouellet products on BIMsmith Market, the leading cloud platform used by architects and engineers to conduct building product research, placing Ouellet in front of a global audience of building design professionals.
"For more than half a century, Ouellet has prioritized the continued success of its customers and stakeholders wherever possible," said Owen Suchar, US National Sales Manager at Ouellet. "Our new BIM tools are yet another way that we can support not just architects and engineers, but every contributor throughout the entire building design process."
"Ouellet provides architects and other building professionals with a tremendous depth of product and industry expertise," said Benjamin Glunz, CEO at BIMsmith. "We are excited to partner with Ouellet to help expand their support of architecture and engineering professionals everywhere."
Go HERE for more information about BIMsmith