EFC Announces New Chair and Board of Directors for 2022-23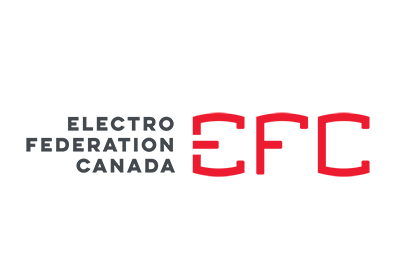 September 1, 2022
The Electro-Federation Canada (EFC) Annual General Meeting was held at the industry conference this past June for members to vote in favour of business put forth during the meeting.
The 2022-23 Board of Directors, including the appointment of Frank Cistrone, Shawcor, as EFC's Chair for a one-year term, was announced. Frank has served on the Board and Executive for many years and holds the Chair of EFC's Scholarship Program.
EFC also extends a special thanks to David Nathaniel, Ascot, who has served as the Board Chair for the past year.
The complete list of EFC Board members for 2022-23 is as follows:
Frank Cistrone, Shawcor
Renee Lytle, E.B. Horsman & Son
Rob MacPherson, ABB Installation Products Ltd.
Patrick Deschamps, Contact Delage Inc.
Jennifer Eastman, CSC LED
Jody MacDonald, Eddy Group Limited
Kim Quelch, Eglo Canada Inc.
John Jenner, Electrozad Supply Company Limited
Cara Backman, Franklin Empire Inc.
Joanna Kwant, Gerrie Electric Wholesale Limited
Jason Taylor, Graybar Canada
Catherine McKeown, Hammond Power Solutions Inc.
Steve Branscombe, Independent Electric Supply Inc.
Jason Prevost, Leviton Canada
Alexei Miecznikowski, Northern Transformer Corporation
Louis Beaulieu, Ouellet Canada Inc.
Leslie Clarke, Paul Wolf Lighting & Electric Supply
Roger Hallett, Phoenix Contact Ltd.
Nadia Teixeira, Rexel Canada Électrique Inc.
Brent Norrey, Roney Marketing Ltd.
David Klarer, Sales Outsource Solutions
Adrian Thomas, Schneider Electric Canada Inc.
Tim Gibson, Siemens Canada Limited
Todd Walford, Sonepar Canada
Tim King, Southwire Canada
David Nathaniel, Ascot
Michael Gross, WESCO Distribution Canada LP
Luc Rodier, Guillevin International Co.
Umesh Patel, Eaton Industries (Canada) Company
Carol McGlogan, Electro-Federation Canada
The following Chairs of the EFC councils were also appointed as directors. The terms of service on the Board are coincidental with their service as Chairs of their councils.
NAC, Jason Prevost, Leviton Canada
CEMRA, Brent Norrey, Roney Marketing
Finally, EFC wishes to extend a very special thank you to the following members who have completed their term on the Board:
Greg Stephenson, Bartle and Gibson
Kevin Mallory, Hubbell Canada
Roger Little, Rexel Canada
Eric Deschenes, ABB
Pierre Legare, Viscor
Questions? Please direct all enquiries to info@electrofed.com